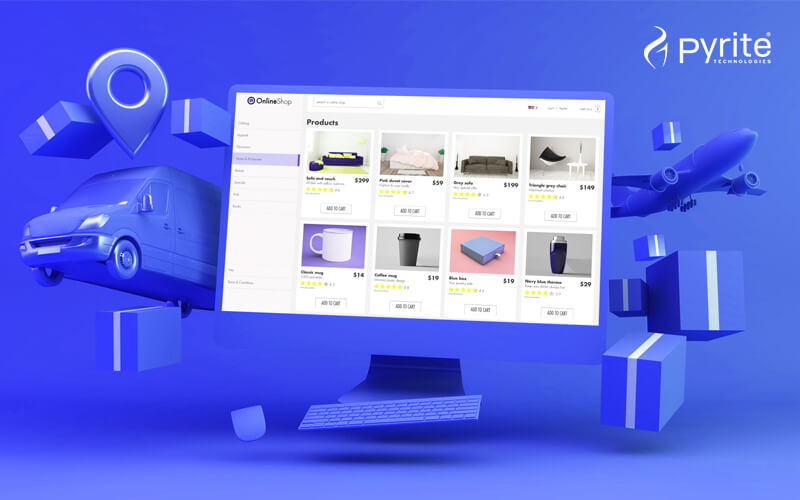 CompuServe was truly the 'Adam of ecommerce,' launched by two electrical engineering students from Columbus, Ohio, in 1969. It was the pioneer of commercial online service on a small scale. But the minuscule popularity of the digital market did little to boost its growth until the Amazon marketplace was launched in 1995. Since the competition was almost negligible, Amazon became the early bird that caught, nurtured, and leveraged the monopolistic ecommerce market-worm. However, today, ecommerce businesses rarely have the bandwidth to waste time. Expectedly, ecommerce platforms became the choicest option for prompt ecommerce website development and deployment in the market. This enabled online businesses to stay on par with other players.
The competitive market narrative – How do ecommerce platforms help?
Ecommerce in India and elsewhere received a propulsive thrust following the COVID-induced lockdown and customers' increasing preference for convenient shopping. In a span of two years, the market value stood at US$ 16.6 Trillion in 2022. The global ecommerce market is expected to continue expanding at a CAGR of 27.43% during the forecast period of 2023-2028.
It became one of the highly grossing mediums for organizations looking to scale their businesses, connect with more buyers and expand their market reach. Many industries that earlier relied on the brick-and-mortar approach now generate approximately two-thirds of their sales from online shopping portals. Unsurprisingly, the total global digital shoppers grew by 1 billion between 2019 and 2022 and are still counting.
More buyers attracted numerous service providers.
Already, some top-notch giants, like Amazon, eBay, Walmart, Shopify, Alibaba, and Others, are vying for the ocean of opportunities the online market presents. Roughly 12-24 million other e-retailers across the globe also joined the ride for the same golden egg.
Therefore, companies today, with an online growth perspective, would need a robust ecommerce platform to build their digital presence and start selling before competition becomes impenetrable.
That's not all. Besides winning the competition and harnessing the online market's power potential, there are other reasons why hosted b2b ecommerce platforms are widely preferred over self-hosting.
Benefits of best ecommerce platforms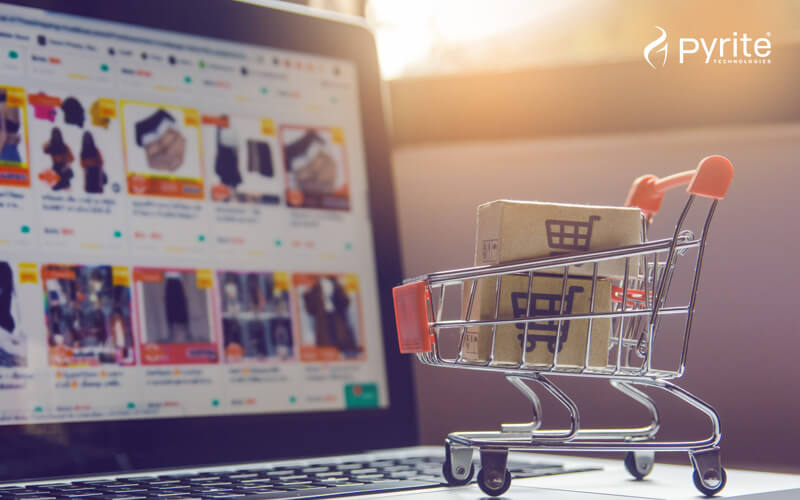 The gap between ideation and website launch should not be more than a month. And the chances of your idea being developed, packaged and sold within a day by a competitor are high while you are still writing the HTML code. Obviously, other equally strong reasons are in favor of online ecommerce platforms.
1. A volunteer for the heavy lifting
The infrastructure setup for self-hosting doesn't go easy on the budget. Besides costs incurred in acquiring the hardware and installing the software, one needs to hire a salaried person or two to monitor and maintain the infrastructure once it is up and running. However, with an ecommerce platform, the service provider bears the entire burden of managing the online store, updating systems for security and catering to subscription costs for extensions/plug-ins. All you need to do is simply focus on running the business.
2. Guaranteed security
Software security is paramount, especially for ecommerce websites in India and other countries. The rise of data theft has placed the IT sector under tremendous pressure while customers are kept away from sharing their card details on ecommerce sites. The top ecommerce platforms offer guaranteed security with their embedded safety features and full-time activity monitoring to prevent plausible fraudulent activities.
3. Customizable to match brand Intent
The software as a service usually comes with embedded design templates, features, extensions, and various other plug-ins to allow owners the flexibility of customizing their business website. Most hosted platforms tailor features suitable to your company's requirements while the designs uphold the brand's intent.
4. Easy to scale and evolve
These platforms respect your objective of scaling your online business and continuously evolving to keep up with the volatile market. For example, timely software updates keep your website on par with external changes. Sharing your traffic profile and business objectives with the shortlisted vendors allows you to easily have the best ecommerce platform solution tailored to your needs. This will enable your online business to keep up instead of playing catch up with the competition.
5. Prevent costly delays
As earlier stated, one of the primary benefits of leveraging the best ecommerce platform for small businesses is its speed-to-market convenience. Timely deployment of the website, along with the required features, ensures the website is up and running and available to meet customers' needs immediately. Also, any potential downtime can be averted, resulting in minimal delays that can damage your business.
6. Higher returns on technological investments
A website hosted on an ecommerce platform like Shopify or Magento is often considered a valuable technological investment. Most of these providers offer the advantage of cutting-edge technology integrations capable of doing much more. This is usually beyond the capability of a self-hosted website.
7. Top-notch support
Lastly, a hosted ecommerce platform offers dedicated and knowledgeable customers and backend tech support. This is absent in case the site was built in-house. Access to experienced IT professionals also prevents costly delays and deployment errors, as mentioned earlier.
What is an ecommerce platform?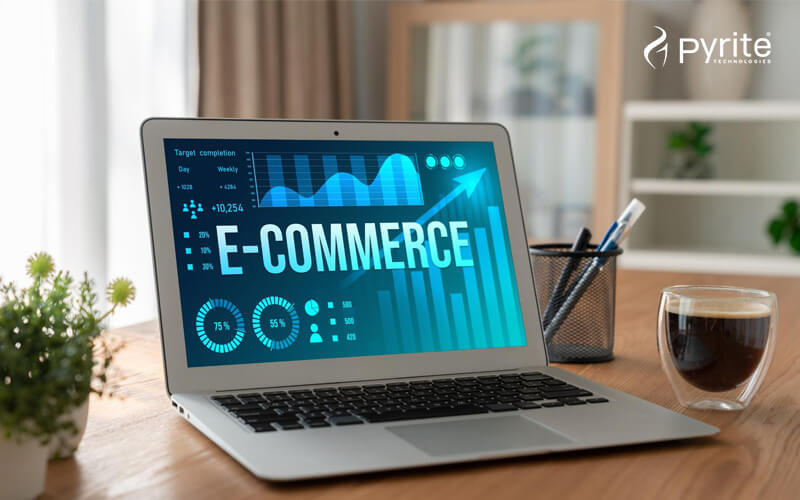 An ecommerce platform is a software solution hosted by a provider like Shopify to orchestrate your business online and demonstrate cataloged products via a digital presence, aka a website. This content management system houses a comprehensive database to manage your website content while other integrated features, like search, cart, and payment gateway, enable your customers to easily find and manage their preferred items, purchase, and pay directly. Any business, whether large or small, B2B or B2C, can easily leverage the Internet and the platform to build a strong online presence for selling tangible goods or providing remote services.
Innovative platforms integrate various automation tools to quickly publish/unpublish website and social media content as per requirements and put time-intensive workflows on auto-pilot.
Ecommerce platforms Vs. Shopping cart platforms – Key differences
Generally speaking, ecommerce software is quite like a shopping cart platform. Both support the development and management of online stores, enabling customers to add items, purchase, and process payments directly from a single platform.
However, they cannot be referred to synonymously because of subtle differences.
Ecommerce platform is a one-stop-shop for all your online business needs. These range from website hosting, development and design to setting up a storefront, processing payments, and providing tools for marketing, security and many more. Contrarily, shopping cart platforms only support the 'purchase and payment' function. One can never build or host a website.
As stated, owners can easily build their website on an ecommerce software system or simply integrate it with an existing website. For the latter, owners should already have a website where they need to integrate the software and set up product lists.
A b2b ecommerce platform does more than merely build a digital storefront for your business. On the other hand, a shopping cart platform is available as website plug-ins or extensions. Mostly, their capabilities are limited to setting up a virtual storefront only.
Expected features of an ecommerce platform
An ideal ecommerce platform offers a unified solution connecting backend and frontend business processes for complete visibility, allowing owners to effectively meet the most discerning expectations of buyers. However, every online retail has unique needs and specifications, easily accommodated by software solutions. Therefore, certain software specifications are worth noting down while hiring a vendor.
The following is a list of ecommerce platform requisites every business should consider:
1) A 360-degree overview
By connecting backend and frontend operations on a single, unified platform, ecommerce software systems enable a 360-degree view of each process and offer data accessibility in real-time. This, in turn, helps owners to make informed choices while crafting personalized customer shopping experiences.
2) Unlimited call volumes
One of the top ecommerce platforms, Shopify, offers API (application programming interface) calls per second limits to ensure the application functions smoothly. And businesses should have access to unlimited API call volumes to get the application, and the server executes what is requested.
3) Centralized OMS
Hosting an ecommerce website on Shopify, Magento, or others offers a unified solution for managing orders and elevating customer experiences across all touchpoints and channels.
4) Friendly website builder
The best online ecommerce platforms offer a range of free themes and simple drag-and-drop mechanisms to allow business owners to develop and launch their sites with minimal web design experience.
5) Robust security
As already mentioned, security is important, especially for online businesses that run on sensitive customer data. Most platforms, like BigCommerce, offer an SSL (secure sockets layer) certificate and Level 1 PCI compliance. These ensure a safe and secure medium for buyers to happily shop, interact, and transact.
6) Unique SEO tools
Many ecommerce platforms come with in-built search engine optimization tools, essential for ecommerce SEO. They include URL settings to create and optimize unique page URLs, embedded snippets to improve search result listings, 360-degree redirects for easy page migration, CDN for high site speed, and many others.
7) Analytics and reporting
Some platforms also provide embedded analytics and reporting features or a common dashboard to overview the overall ecommerce site's performance. This can be in terms of traffic and conversions, sales and profits, number of orders to returns and refunds, and many more.
Top 15 ecommerce platforms for SMEs and large enterprises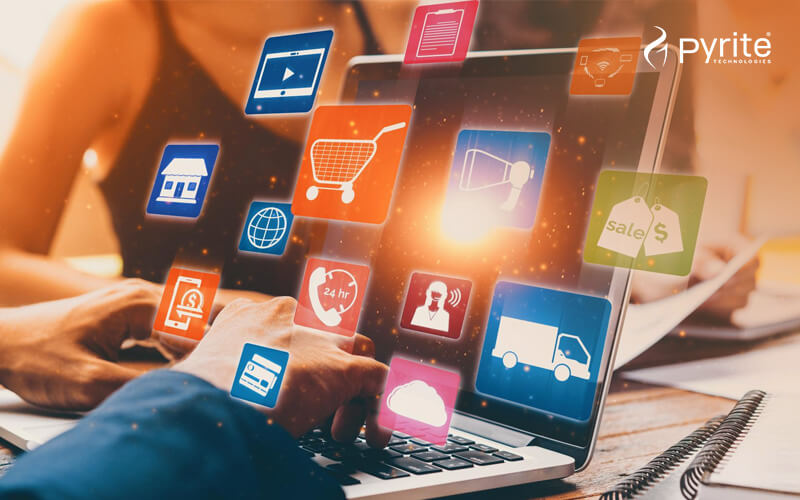 The market is already saturated with choices. Therefore, handpicking the best ecommerce platform can easily become the toughest choice. And if not picked carefully, your business can go for a complete toss. Lucky for you, our detailed list of platforms will give you a good place to start.
Tool
Features
Pros
Cons
Price
Industries
Magento
1. A vast marketplace of extensions
2. Third-party integrations and unlimited ecommerce customization
3. Quick, secure and mobile-friendly checkout experience
4. Integrated payment gateways
1. High platform flexibility
2. Limitless features and easy customizations options
3. Extensive analytical and reporting tools
4. Mobile responsive
1. Pricey compared to other market alternatives
2. Steep learning curve for beginners
Customized pricing available on request
IT, Food and Beverage, Automobile, Ecommerce, Retail, Fashion, CPG, Games and Entertainment, and Others
Shopify
1. Powerful SEO and analytical tools
2. Shopify POS
3. Online store editor and storefront
4. Robust security features
5. Shopify App Store
6. Mobile responsive
7. Customizable features
1. Easy to use
2. Customer support and service is excellent
3. Multiple plugins and customizable features
4. Easy to integrate with different apps and existing tools
1. Difficult to share catalogs across multiple sites
2. Backend user interface could have been better
3. The platform gets heavy and slow with multiple features
3-days free trial. Customized plans are available on request
Apparel and Fashion, Retail, Computer Software, Books, Hospitality, and Others
BigCommerce
1. Mobile responsiveness
2. Supports multi-currency and easy one-page checkout
3. Offers sitewide HTTPs and dedicated SSL
4. 24/7 live, chat, and ticket support
1. User-friendly and intuitive interface
2. Suitable for small businesses
1. A little pricey compared to other alternatives
2. Limited customizable options
3. Inadequate customer and tech support
4. Standard features are non-existent in the free version
5. Custom features are a little expensive
15-days free trial available. Standard plan starts from $39/month.
Manufacturing, Wholesale and Retail, CPGs, and Others
WooCommerce
1. Free or discounted and optimized hosting
2. A dedicated customer support manager
3. Provide complete control to clients over their data storage and usage
4. A broad marketplace with endless extensions to select
1. Thousands of free themes to choose from
2. Storefront is flexible and intuitive
3. Excellent tech and backend support
4. Low commission rates
1. Little pricey compared to other alternatives
2. Lack technical documentation
3. Not many plugins available
Costs are customizable, giving more control to users over platform expenses. However, website hosting can range from $3.95/month to $5,000
Large Enterprises, Ecommerce, and Others
Wix
1. Mobile optimized platform
2. In-built SEO tools
3. Advanced editing options
4. SSL certified and social tools
1. Easy to use
2. Simple drag-and-drop interface
3. Affordable pricing compared to other options
4. Incredible customer support
1. Limited storage in all plans
2. Difficult to change templates after the website is live
3. Google Analytics is not available
Pricing ranges from $0.97 to $6.09/month
Ecommerce, Retail, Fitness, Restaurants
OpenCart
1. Numerous customizable features
2. Easy to manage multiple stores from a single admin interface
3. Separate access for user groups
4. Localize store settings
1. Free trial available for beginners
2. Ideal for ecommerce businesses
3. Support multi-currency and 20 payment gateways
1. Difficult to update or modify features
2. Limited marketing tools
3. Not a useful filter option
4. Customer support could have been better
Pricing available on request
Startups, Small Businesses and Medium Size Businesses
PrestaShop
1. Extensive and detailed legal and technical documentation
2. Unlimited listings
3. Easy to export analytical data in CSV format
4. Advanced SEO capabilities and 300+ built-in features
1. Good value for money
2. Incredible customer support
3. Numerous customizable features
4. Responsive, friendly, and intuitive UI and UX
1. Slow responding platform
2. Initial setup can be a bit tricky for beginners
3. Limited free templates and extensions
4. Mobile version is not user-friendly
Prices vary from $10/ month to a thousand
Retailers, Ecommerce, Entrepreneurs, and Others
Squarespace
1. Free unlimited hosting
2. Robust security and personalized support
24/7 help center
3. Free trial available
1. Easy to use templates and editor tools
2. The setup is fast and frictionless
3. The auto-update feature protects the platform from new security threats
4. Easy to manage multiple sites
5. Simple integration with various tools and extensions
6. Mobile responsiveness
1. Navigation, especially for edits, is difficult
2. Mobile experience is not as intuitive as preferred
3. Limited customization of payment/donation features
14-day free trial available. Basic plan starts from $16/month
Online Stores, Etsy Sellers, Restaurants, Artists, Bloggers, Photographers, Weddings, Enterprises, Students
Weebly
1. Free SSL security
2. 3rd party embed code
3. Password protected and negligible square ads
4. Community forum, chat and email support
5. Build mobile responsive websites and applications
6. Fully customizable professionally designed websites
7. Powerful SEO tools, custom domain, and third-party integrations
1. Free forever plan is available
2. Premium plans are less pricey compared to others in the market
3. Easy to use
4. Good value for money
1. Square ads will bother, especially in the free forever plan
2. Phone support available only on advanced/professional plans and above
3. Technical glitches are common
Free plan available. Basic plan starts from $10/month
Marketing, Education, Consulting, B2B and SaaS Retail Market Segments
Ecwid
1. PCI DSS validated Level 1 Service Provider – the ultimate standard for ecommerce solutions
2. Help support available via phone, live chat, and email
3. Presales chat available to help users choose the right plan
4. Ecwid supports over 40 payment providers globally, including PayPal and Stripe
5. Unlimited storage bandwidth at no extra cost
1. No setup or transaction fees required
2. It offers a lifetime free plan
3. Nonprofit organizations get 6 months venture for free
4. Cost-effective tool
5. Easy to add ecommerce features to an existing site
1. Plans are only billed in US dollars
2. No SEO-editing capabilities provided
3. Difficult to edit product URLs
4. The platform doesn't support product page AMP versions
5. It is hard to build a complete ecommerce website on Ecwid
Free plan available. Basic plan starts from rupees 889/month
B2B and B2C Businesses, Small Organizations, Nonprofit Ventures, Real Estate, Ecommerce, Retail, Software, and Others
Volusion
1. Mobile-friendly themes and customizable layouts
2. Easy to add and create multiple sub-categories
3. Advanced search tools
4. Homepage slideshow to highlight products and discounts directly
5. Self-create website designs with in-built HTML and CSS editior
6. Customizable firewall settings to avoid spam
1. Easy to create and scale online stores
2. Multiple in-built features and add-ons available
3. Reliable tracking data tools
4. Comprehensive documentation and knowledge base, with a supportive help center, enable easy onboarding of new clients
1. Mobile stores could have been better
2. Frequent technical glitches and downtime
3. The UI can be difficult to navigate by beginners
4. Limited customization option
Basic plan starts from $35/month
From Mom-and-Pop Shops to Fortune 500 Companies
ClickFunnels
1. Create beautiful websites
2. Report and analytics dashboard
3. Easy to track visitors
4. SEO tools and optimization recommendations
1. Good value for money
2. Incredible customer support
3. Easy and intuitive user interface
4. Best funnel building software option
1. Tech support could have been better
2. Not mobile friendly
3. Backend functionality requires a steep learning curve
Free trial available. Basic plan starts from $127/month
Finance, Insurance, Education, Startups, Small and Large Enterprises
Elementor
1. Drag and drop editor
2. Responsive editing
3. Easy to customize features
4. Live editing
1. Live previews available
2. No coding knowledge needed
3. Easy to install on clients' sites
4. Affordable pricing
1. Lacks sales funnel functionality
2. Not so intuitive and user-friendly UI and UX
3. There should have been more options regarding quality templates
4. Slow platform loading speed
5. Absence of customer support and tech team
Basic plan starts from $9.99/month
Web Designers, Developers, Marketers, Agencies, and Small Business Owners
WordPress
1. Hundreds of professionally made and customized templates
2. Drag-and-drop tool to organize content and media
3. Advanced design tools, 4K resolution and picture-in-picture for uploading videos, and many more
4. Monetization tools
5. Huge bandwidth for unlimited site traffic
6. Easy to restore and save a backup of the website
1. User-friendly CMS
2. Approximately 54,000 mostly free and paid plugins available
3. Over 1000s of mobile-responsive website themes
1. Frequent technical glitches following platform updates
2. Require more robust security features
3. Certain themes require unnecessary generic code
4. Customization could be expensive
Free plan available. Basic plan starts from rupees 160/month.
IT, Ecommerce Marketplaces, Electronics, ET&S, and Others
3dcart
1. 100+ free themes, with more added per day
2. AI-driven fraud protection powered by Kount
3. Unlimited storage bandwidth
4. Integrated blog, API access, and multiple SEO and marketing tools
5. 24/7 customer support
6. Support for all payment types including PayPal,
Venmo, Pay Later, Apple Pay, Google Pay, and all major credit cards
7. PCI-compliant security with advanced tokenization
8. Powerful built-in fraud protection
1. Easy to migrate current ecommerce website for free
2. Secure platform and online payment
3. Swift and easy setup
4. Seamless integration between orders
and payments
5. Build a secure ecommerce website
6. Offer tools to accelerate lead conversions
1. Customer support could have been better
2. The free templates are not up-to-the-mark
3. The dashboard is not intuitive or visually appealing
4. Limitations on sales volume
5. A few hidden costs
6. The learning curve for the management dashboard is steep for the beginners
An enterprise-grade plan of $0, with a processing fee of $500. For new customers, the initial plan is $29/month. All features are included at no additional cost
Startups and Ecommerce Businesses (across all industries)
Conclusion
An eCommerce platform should be carefully handpicked based on how well the features align with your business' size and needs. Proper research is mandatory alongside a complete competitor analysis on pricing and offerings so your enterprise can reap the benefits of ecommerce software and its full potential.