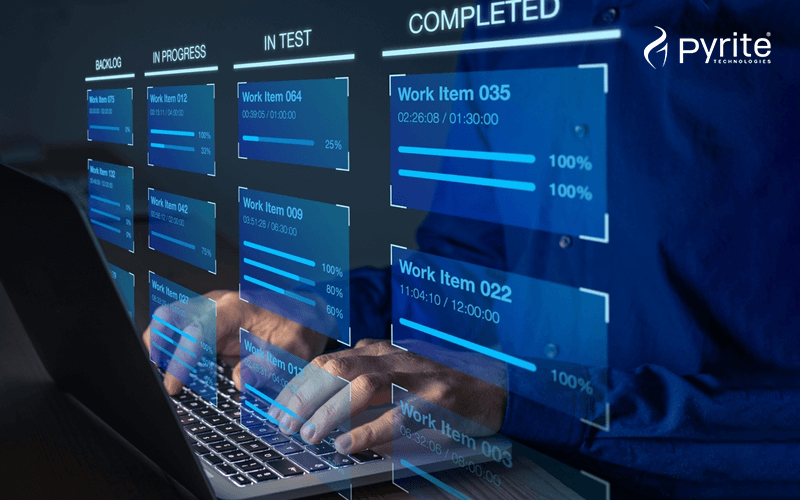 Worldwide research shows that only 35% of the projects undertaken are successful – meaning approximately 65% fail to reach the final stage. Obviously, the reasons could be either the absence of a project-driven organizational structure or the lack of capabilities and experience to manage modern projects. Regardless, project management is essential, primarily because:
It oversees the optimum utilization of resources
It ensures that project deadlines are respected
It directs projects to the path of successful completion
It helps decide realistic project goals
It ascertains the quality expectations of clients
Many modern agencies increasingly acquire project management tools to spearhead and execute several clients' projects simultaneously without compromising on quality and timely delivery expectations. In the same light, some project management software systems are integrated with various third-party tools, like content optimization and management, that allow you to quickly evaluate existing content pieces and manage the entire content marketing project seamlessly.
This is just one of the many extensions incorporated into your project management to help your managers handle the clients' varied requirements without worrying about the quality and delivery expectations.
Elucidating the role of project management for marketing agencies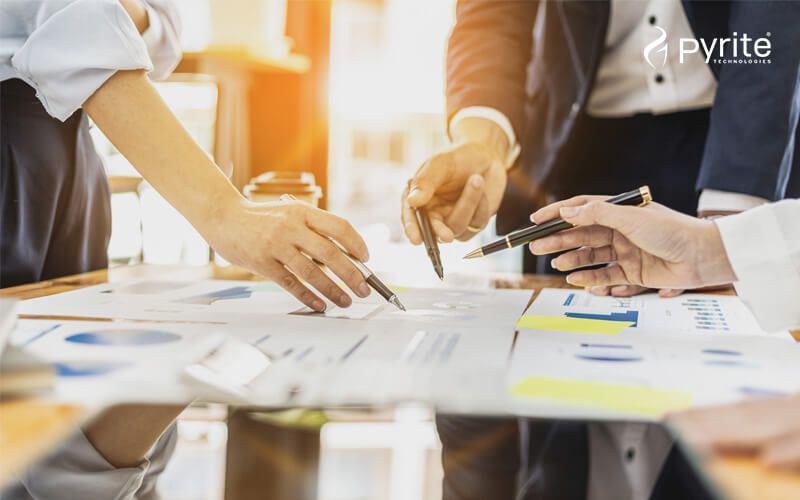 Digital marketing agencies need project management software solutions even more because they handle multiple clients' projects simultaneously. Their daily work schedule includes:
Designing and developing websites
Providing content, SEO, and SMM services
Launching numerous campaigns, and
Managing other tasks.
Then, there are budgets to plan, milestones and deadlines to fix, teams to monitor, and reports to generate while constantly updating clients about the project's status. The chances of execution errors, missed deadlines, or budget exceeded are always high. Considering the heavy workflow of agencies, project management becomes the only best bet for them.
Also Read: Ten Social Media Marketing Tools to Auto-Manage Clients' Social Media Handles
An efficient software solution for auto-managing projects can drive the following benefits:
1) Coherent project planning
The project management process is broken down into small, achievable tasks, allowing teams to complete each milestone on time without compromising quality. Proper project planning helps teams achieve the same goal, especially when working simultaneously on multiple projects.
2) Quality of services
Continuous monitoring and reporting of goals' executions help managers and clients stay on board with the project's progress. This helps everyone involved to timely identify flaws and promptly remediate them to match up with the quality expectations of the services.
3) Streamlined communication
Tech-enabled project management becomes a unified one-stop connecting platform enabling every member to upload their deliverables on a shared dashboard for other resources and the client to witness the outputs and leverage data for the next task. This streamlines communication and eliminates data siloes while ensuring the project is executed without stumbling for want of real-time data.
4) Adherence to project deadlines
Missed deadlines are a primary concern. To prevent such occurrences, every step within the project is carefully monitored and executed as planned, while ensuring all of the resources stay caught up in their delivery. All of these efforts culminate in project execution within stipulated timeframes.
5) Risk review and management
Project management software services are technologically able to identify potential risks in a project or contract and take measures to minimize potential problems.
6) Project performance review
An all-inclusive project management process also covers extensive performance reviews. This stage compares the current work status against pre-defined goals alongside quality and delivery time expectations. This helps agencies stay updated with clients' projects and their objectives, deadlines, and critical results.
Evaluating the role of a manager in project management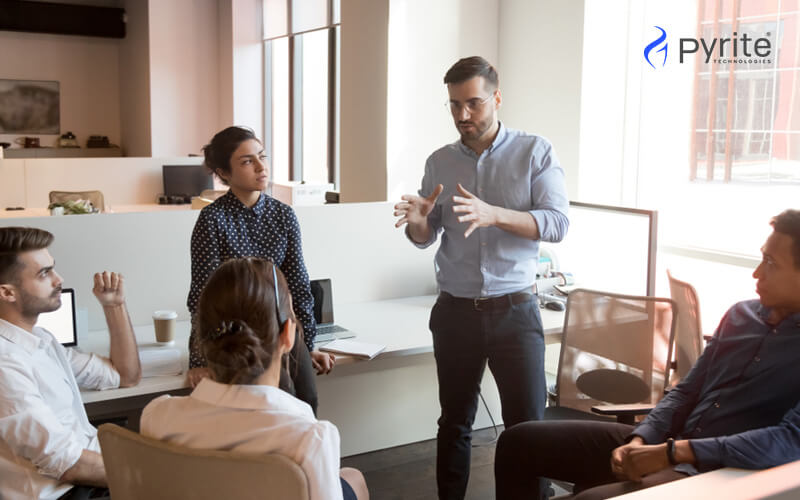 In every digital marketing project, the manager plays a significant role in ensuring the successful completion of each project. His roles could be summed up in the following points:
Deciding and implementing appropriate management standards
Spearheading required deliverables for clients
Monitoring and managing the execution of tasks
Adopting project assurance roles within agreed reporting structures
Handling project risks and developing contingency plans
Monitoring overall progress and optimally using resources
Initiating corrective action where necessary
Reporting on project progress through monthly reports and periodic assessments
Implementing essential technical and quality strategies and standards
Evaluating project deliverables to assess outcomes
Preparing and applying follow-on action recommendations
Directing and managing the project team
Developing a detailed stage-by-stage project blueprint
Using business case and risk management processes
Delegating tasks between resources and teams
Imparting expert knowledge to meet project specifics
Ensuring an effective and streamlined communication channel between all dots
Role of modern technology in project management?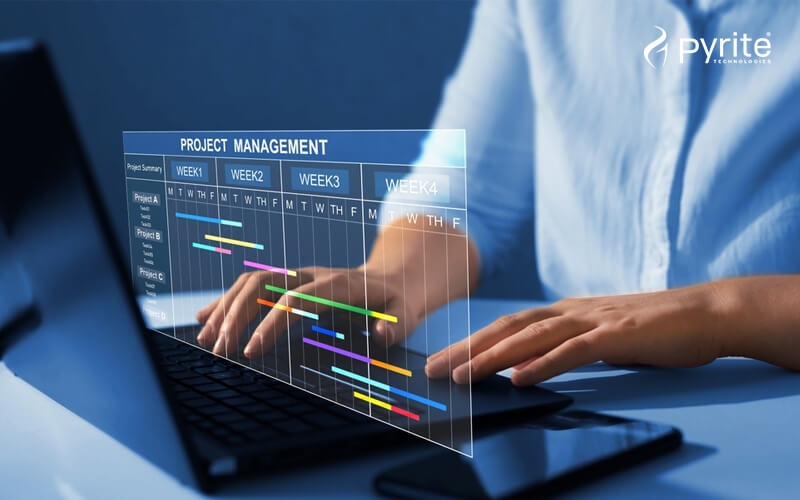 Adopting new age cutting technology has increased manifold, especially in the last few years, enabling organizations to find more cost-effective and efficient business methods. On the other hand, marketing agencies boasting of Automation and AI skills are much in demand among B2B clients primarily for guaranteed results. That being said, it is crucial to understand how modern technology can help improve the management of complex projects while respecting the quality assurance expectations of the clients.
The following are a few ways modern technology transforms how projects are handled, managed, and executed today.
1) Collaborative technology
This technology helps bridge the communication gap between teams involved with single or multiple projects. It also breaks data siloes and ensures everyone is on board with everything happening to execute a project successfully.
2) Cloud-based storage
Cloud-based storage allows project-related files and data to be stored and managed securely and accessed as needed. Such data is well protected from theft, loss, or manipulation.
3) Data management
Data collected during the project lifecycle is carefully analyzed to identify hidden roadblocks and initiate future improvements. Data management tools also help break down data into small, easily digestible inputs for easy consumption.
4) Task management
With the help of modern technology, a project can be divided into minuscule tasks with specific goals and deadlines allocated to respective teams or individuals. Such tools enable managers and team members to easily track work progress and manage the efficient execution of workflows.
5) Budget and time tracker
This technology monitors the entire project in terms of the overall time ingested for the execution of every single milestone. Further, it tracks the total budget for hiring extra resources or other software solutions.
6) Risk management
Project management tools and techniques also help prevent unnecessary delays by promptly identifying potential challenges and addressing them promptly.
7) Workflow automation
Workflow automation is about accelerating recurring time-intensive tasks to enable teams to move ahead with the rest of the project quickly. It helps with the timely execution of every task to respect the client's project delivery deadline.
What are project management tools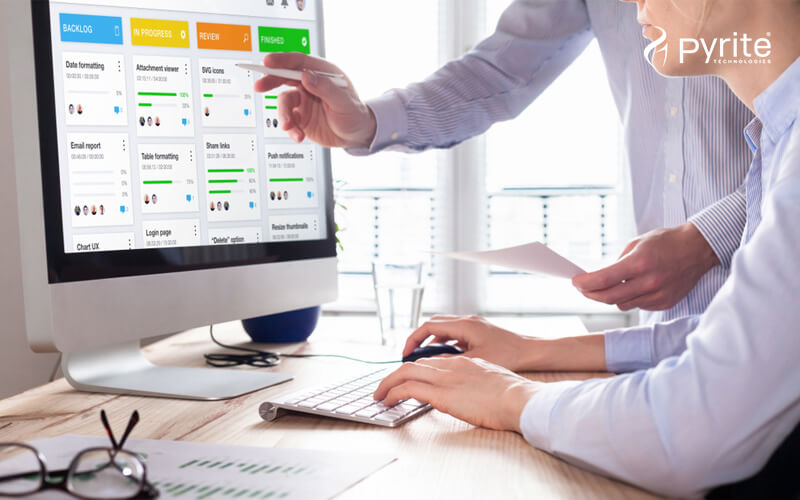 Project management tools help agencies plan, track and manage a project, ensuring the achievement of each definite goal within the pre-determined time. The software solution builds a collaborative culture among team members, enabling them to effectively meet project requisites, overcome constraints and successfully deliver projects.
Benefits of project management tools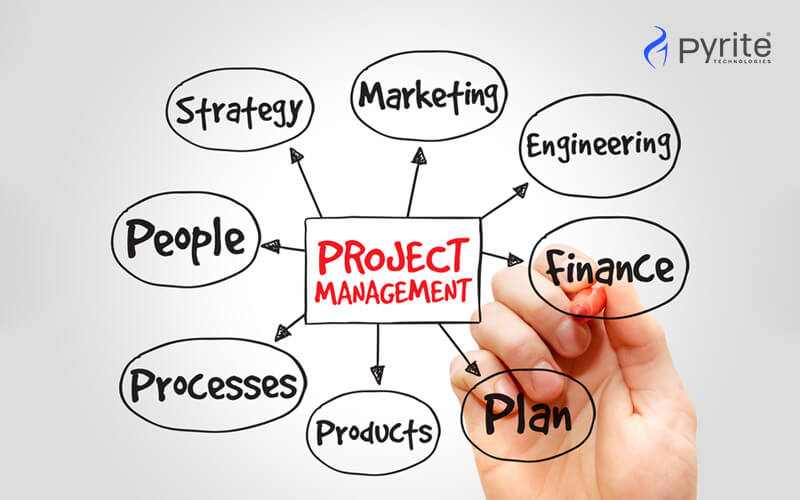 Project management takes work. It is both time and effort intensive. However, one of the long-haul tasks would be manually collating project status information to generate reports. This can easily take up to five hours or more in a day. But there are other lengthy, time-intensive workflows contributing to project delivery delays.
Agencies handling several projects simultaneously work under tight schedules to ensure clients get what they want and when. But, in order to live up to the different quality and delivery time expectations of several clients, agencies need the help of the best project management tools available in the market.
Tech-supported project management has apparent benefits, including the following points:
It improves communication between teams and clients
It fosters team collaboration while breaking data siloes
It enables proper placement, optimal utilization, and adequate management of resources
It simplifies project reporting and analytics for the team
It supports informed decision-making by sharing actionable insights
It helps standardize the project management process
Compare the 10 best project management tools used by agencies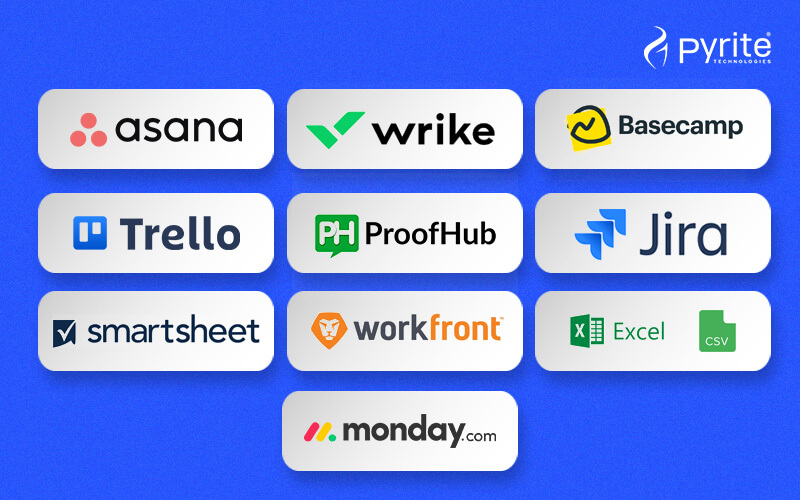 Project management tools simplify the project life cycle, ensuring its success in timely and quality deliveries. With numerous management solutions available today, choosing the most fitting one becomes challenging. Thankfully, we compared dozens of the leading providers to list the ten best free project management tools for agencies and small businesses in 2023.
S. No
Tool
Pros
Cons
Price
Industries
1
Asana
1. Easy to assign tasks
2. Linking projects and organizing teams' goals are easy, seamless, and fast
3. The waterfall view of the timeline is remarkable
4. It is available for free both on Android and iPhone
Easy to track work progress and accountability
Easy to customize
The platform is integrated with Slack messanger
Free plans are available with numerous features
The advanced plans are not as pricey as other market alternatives
1. It takes time for beginners to fully understand how 2. Asana works
2. The mobile version is not as user-friendly as the desktop one.
3. The UI for the mobile version seems heavy and cluttered
4. Small navigation bugs
Free plan. Advanced plan starts from $10.99/month
Non-Profit, Healthcare, IT, Hospitality, Ecommerce, Transportation, Internet, and Others
2
Wrike
1. Unlimited projects, subtasks, and unlimited levels of nest available in free version
2. Drives good value for price
3. Free plan available for beginners
4. Beautiful templates and customizable features
1. UI is not as intuitive as would have been preferred
2. Certain dashboard tabs lack relevant functionality
3. Not enough tools offered in the free version
4. Customer support could have been better
Free plan available. Pro plan starts from $9.80/month. Customized pricing is also available on request.
Marketing, Technology, Digital Marketing, IT, Ecommerce, Marketplaces, Payment Gateway Providers, Media and Entertainment, and Others
3
Basecamp
1. Professional software offering a simple login from any computer
2. Provides a clean projects' visibility
3. It does offer a good value for the price
1. Not user-friendly
2. Certain functions could confuse users and often hinder easy usage and collaboration
3. User interface is not attractive and intuitive
4. Downloading files from the application on mobile phones is difficult
For startups and smaller teams, basic plans start from $15/month per user. For larger businesses and companies, the basic plan starts from $299/month per user. Free plan available for beginners.
B2B and SaaS
4
Trello
1. Flexible interface enabling easy milestone planning and tracking
2. The 'drag-and-drop' system is intuitive and user-friendly
3. Easy to view capacity for a team
4. Foster easy and seamless collaboration between teams and members
5. Enables team communication in each of the task
1. Limited attachment size and integrations in the free version
2. Limited levels of task hierarchy
3. The reporting feature could have been better. Privacy could have been more robust
4. The mobile app is clunky and not as user-friendly as the web version
Free plan available. Pro plan starts from $5/month per user.
IT, Computer Software, FinTech and MarTech, Finacial and Professional Services
5
ProofHub
1. Easy to track, record, and monitor tasks
2. Easy to set up for multiple projects
3. Great customer support
4. Excellent project management and collaboration capabilities
1. Limited background templates
2. Difficult to segregate and organize files in respective folders
3. Limited integrations compared to other software solutions
4. Often it is difficult to track all projects
5. Mobile version doesn't work well compared to the desktop version
6. Customer support could have been better
Flat pricing. No per user fee. Base price starts from $45/month. Advanced price is $89/month
Digital Marketing, B2B, SaaS, and a Few Others
6
Jira
1. Easy to customize teams' workflows
2. Maintain project details updated in real-time on a centralized platform
1. Difficult user interface for beginners
2. Advanced roadmap should be allowed in normal paid subscription
Pricing starts from $0 to a standard $50 per month
Software Developers, Media and Entertainment, IT, Health, and Others
7
Smartsheet
1. Good value for money
2. Great for small businesses
Intuitive dashboard and user interface
1. Limited customization and integration features
2. Security could have been better
3. Average customer service and support
Free plan available. Basic plan starts from $7/month
Retail, Ecommerce, FMCG, IT and Software
8
Workfront
1. Supports multiple languages and currencies
2. Excellent user capabilities
3. Intuitive user interface and experience
4. Customer service and support
1. It can be a little pricey
2. It is not user-friendly for small businesses
3. Minimal dashboard customization
Pricing is available on request
Marketing, IT, PMO, Telecom, and Others
9
Excel and CSV
1. It's a free and secure platform
2. Easy to use
3. It is privacy-focused, easy to download files for reporting
1. Excel and CSV files are heavier
2. The files are binary and susceptible to corruption
3. The files are slower to load and hard to maintain
100% free
For all Industries
10
Monday.com
1. The platform enables users to store information from other programs
2. The project management tool allows for real-time collaboration between teams
3. It offers an extensive knowledge base
4. This platform comes with 24/7 live customer support
1. Minor technical glitches in the document editor
2. The minimum user count for each plan is three
3. Each plan allows fewer actions between two or more integrated apps per month
Free plan available. Pro plan starts from $8/month
Enterprises, SMB, Nonprofits
Conclusion
The success of choosing the right project management software depends mainly on a comprehensive market study, in-depth research, shortlisting your project management needs, and comparative analysis of the best tools in the market. Yes, the task is not easy, especially when the market is spoiled for choices. However, our detailed guide will help you understand the role of an ideal project management software and which provider to select for your organization, and why.