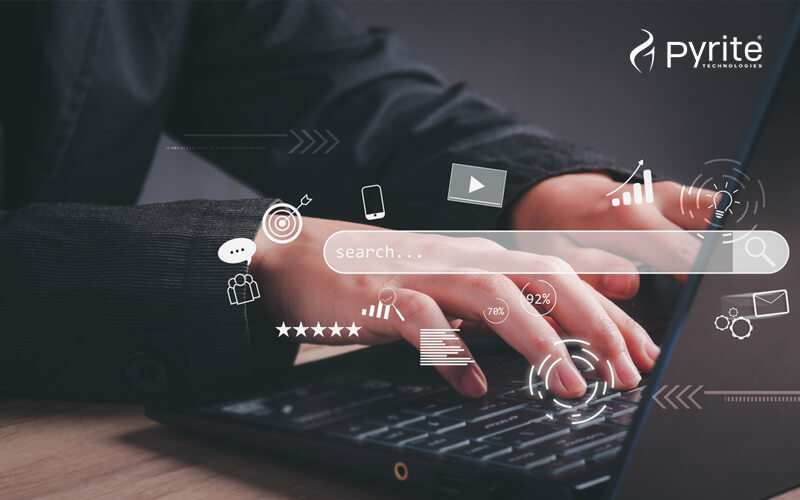 Let's begin our conversation with a question – which search engine do you commonly used for SEO rankings? We can name a few, like Microsoft Bing, Yahoo, and DuckDuckGo. Yet, why does the search always end on Google?
Despite other search engines available at one click, Google has always retained its premier position in the list of brands across the globe. The reason is Google's ability to provide higher-quality results for end users. And in an attempt to achieve the said objective, the search engine giant keeps updating its search algorithms, one of them being the recent helpful content update. With nearly 2.5 quintillion bytes of data in the form of content, images, and videos being added to the platform, the latest update will help content creators stand out in the crowd.
This was much needed from the user's perspective to help them find exactly what they are looking for. And, from a business standpoint, cracking the content structure code has just garnered more importance lately. However, with the recent changes made by the platform, content optimization to improve the ranking chances might be a tad bit tricky, even for seasoned bloggers and SEO experts. But the game can still be won – not manually – but with the help of intelligent content optimization tools.
Importance of Content Planning and Optimization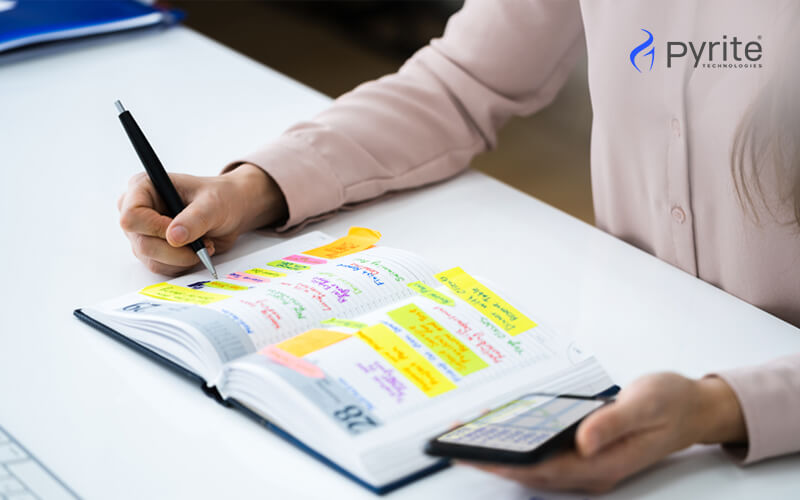 Content optimization is a part of SEO strategy that focuses on keyword and topic research, planning creative and thought leadership articles, and optimizing them for higher website ranks. Content planning and strategy building define marketing goals and set priorities based on which digital marketing efforts are driven to bring tangible results for your business. And content optimization ensures all articles/blogs are executed, keeping the target audience in mind to expand their reach. Here, adding meta tags, relevant keywords, and links also contribute toward optimizing content as per Google algorithm.
Since content is an integral part of your sales and marketing funnel, optimization of your articles/blogs can go a long way in driving quality traffic to your website. Such audiences can easily be converted and pushed down the funnel as your ultimate buyers.
That being said, content optimization can never be a one-time deal. Instead, it screams for continuous improvement and careful planning to keep up with the changing SEO practices, not when your posts witness decreasing views. Further, if your content is poorly optimized, it can also reflect badly on your SEO rankings!
A Few Helpful Content Optimization Tips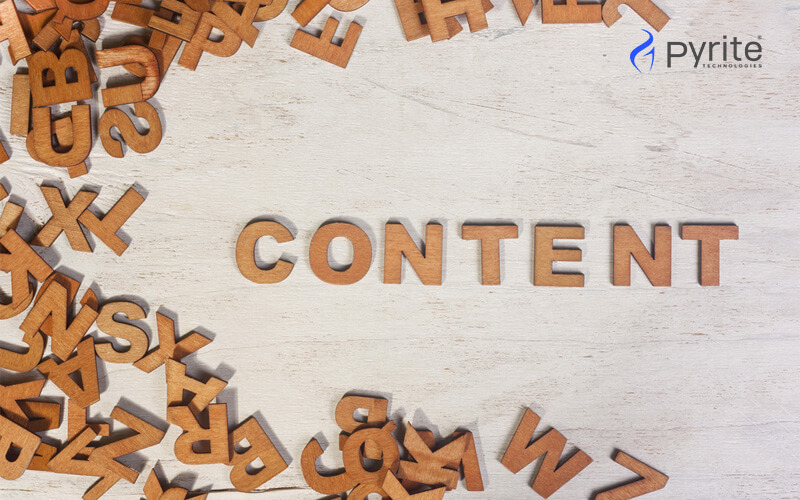 Here is a checklist for content optimization to get you started if the manual approach best fits your business needs.
Improve internal linking
Create featured snippets
Perform content audits periodically
Research your competitors
Research on commonly searched keywords and topics
Improve the quality of content
Add the various technical elements
Add relevant images and videos
Update old content regularly
Now, accommodating every content optimization need with a small team is often challenging. Outsourcing can help, but that can weigh heavily on your budget. Contrarily, the various SEO content optimization tools might prove worthy of the shot.
16 Best Content Optimization Tools to Consider
Content is the ultimate king of digital marketing – there's no second-guessing. But a poorly optimized content piece will beget inferior results, costing your company valuable time and effort of your resources. To override such an undesirable outcome for your online marketing, content optimization tools are leveraged to turn the SEO game in your favor.
The following are some of the best content optimization tools that you can consider for your content marketing:
1. Contentpace – a one-stop-shop for your content marketing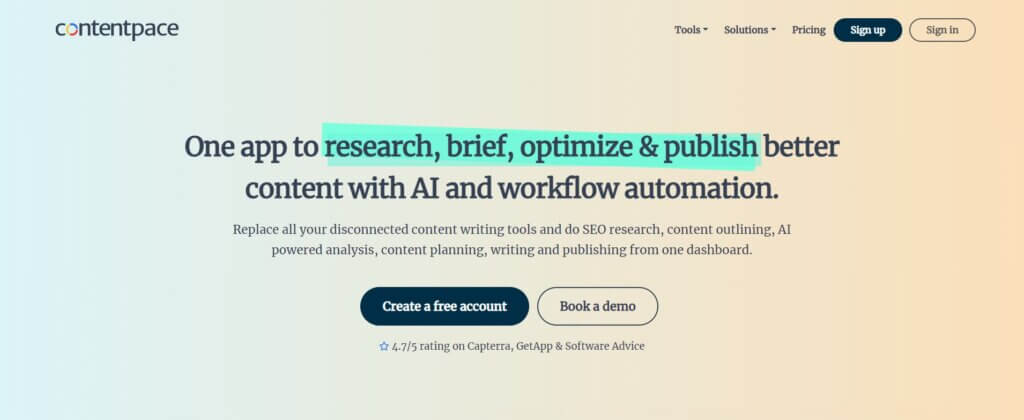 This is one platform that does it all, from competitor analysis to content briefing, planning to write, and publishing from a single dashboard. This feature-rich AI-powered tool offers guided optimization, inspires creative writing, and edits content as per SEO rules.
Explore its extensive features to improve your content marketing strategies. Visit the site.
2. Frase.IO – create quality content faster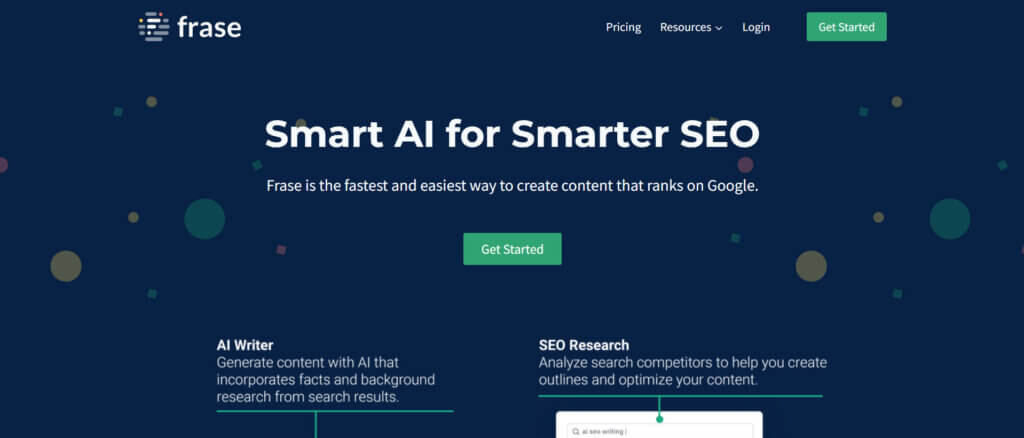 SEO content optimization tools like Frase AI assist the digital marketing team in many ways. It improves content with well-researched market statistics, SEO updates, high-ranked keywords, and a clearly defined content brief. Frase can ensure your articles are delivered faster than normal, keeping up with the same quality and quantity requirements.
Learn more about this content optimization tool. Visit the site.
3. MarketMuse – plan your next content strategy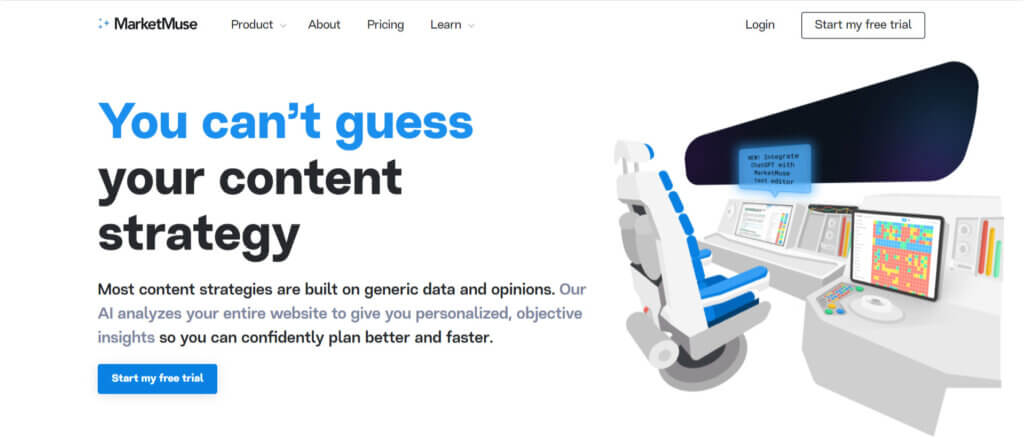 Usually, content strategies are built on generic data and opinions. But MarketMuse takes it a notch high with its AI-enabled algorithms analyzing the entire website to give personalized, objective insight to owners. This allows digital marketing teams to plan their content marketing strategies better and faster.
Get to know more about this incredible content optimization tool. Just click on the link.
4. Surfer – one platform; multiple solutions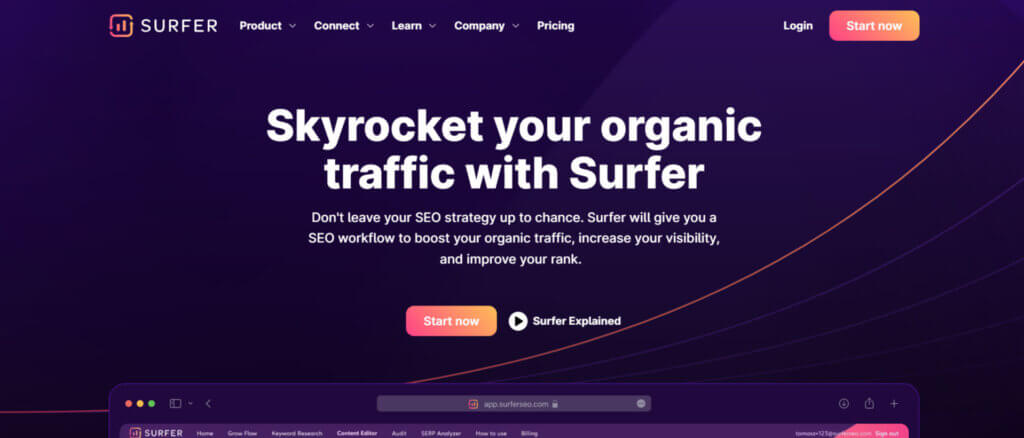 There's no point in taking chances with your SEO strategy or your content marketing deliverables if higher website rankings are what you are aiming for. Surfer is one such dashboard that offers a unified solution for all your online marketing needs. Surfer boosts website visibility and traffic organically and delivers well-optimized, keyword-specific content faster than any expert content creator. Further, this tool provides relevant keywords to score and a real-time optimization measure.
Learn more about Surfer and its numerous features; visit the site.
5. Dashword – create content briefs in no time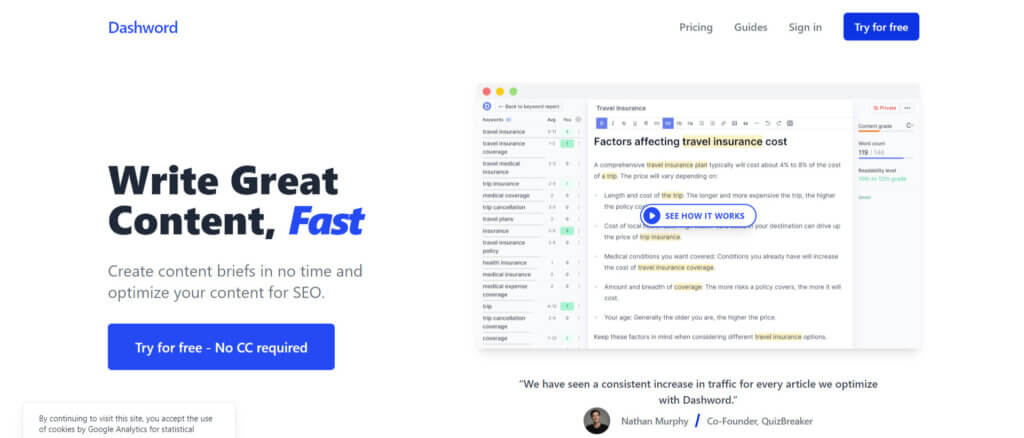 Dashword allows users to create content briefs and optimize articles for SEO in no time. It provides content ideas based on current market requirements, edits pieces like experts, and share resources with your writers, enabling them to deliver quality copies. This is an ideal AI assistant for content creators allowing them to maintain the same level of quality across all content deliverables.
Learn more about Dashword here.
6. Clearscope – drive more traffic with content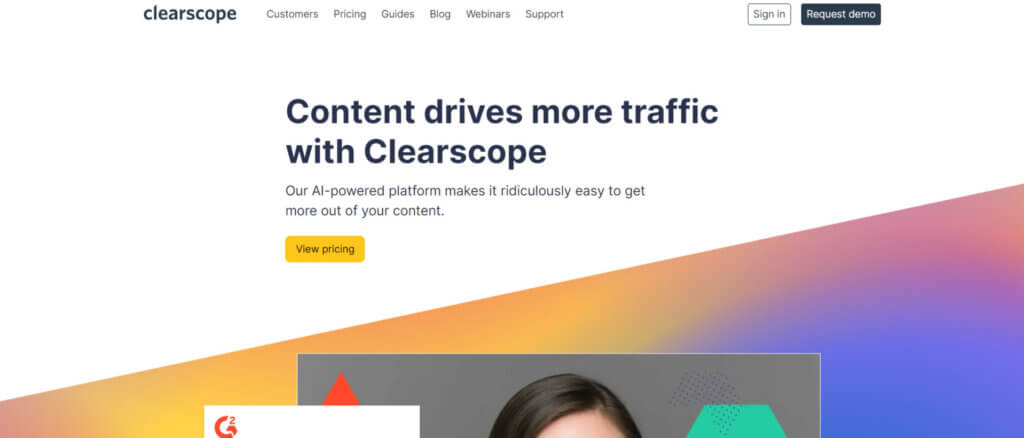 Clearscope is an AI-powered content optimization tool that lets users get more out of their content pieces regarding website rankings and traffic. With its extensive capabilities, this platform helps produce relevant content that matters to end-users, allowing the latter to find precisely what they are searching for on the Internet. So, keep creating high-quality, clickable, readable, and shareable content to boost your organic traffic.
Visit Clearscope to learn more about this application.
7. VoicePen AI – convert audio into blog posts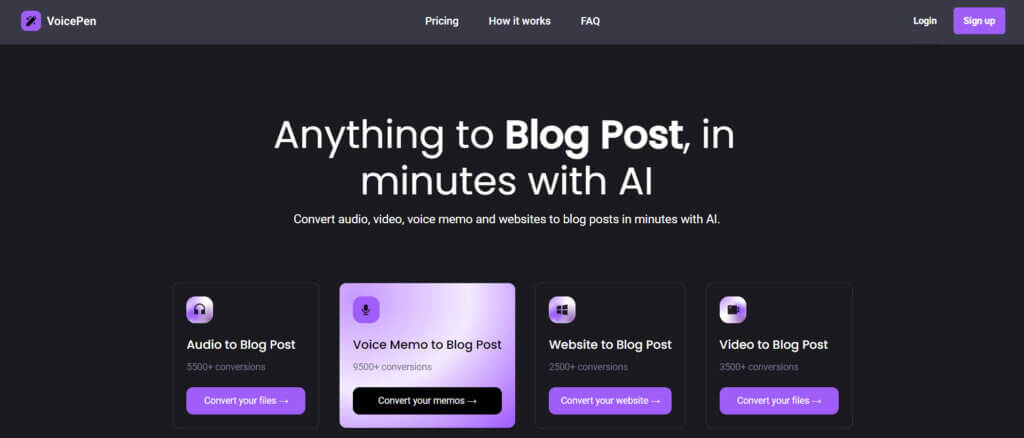 Now it is easier to convert audio content into engaging blog posts. VoicePen AI enables users to create stellar posts in seconds from excerpts of podcasts, webinars, or tutorials. This feature allows bog posts to have extended reach and broader accessibility.
Learn more about its other use cases. Visit the site.
8. Outranking – optimize content faster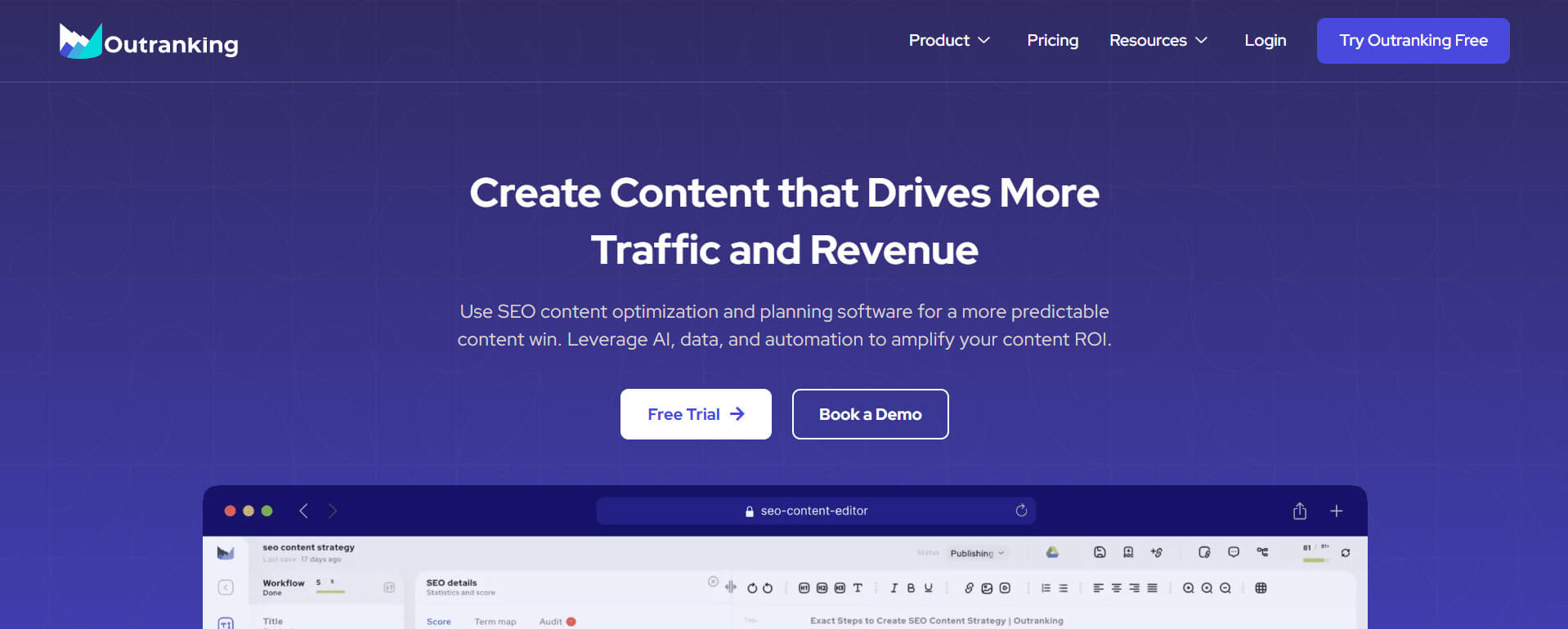 This SEO content optimization tool extensively researches SEO-related data, such as identifying keywords and trending topics, providing content skeleton, and supporting content optimization step-by-step. Outranking also provides a complete report on your website's rankings against competitors for popular search terms. With the result of a comprehensive competitor analysis, one can improve their site's rankings.
This AI tool is a must-have for businesses looking to scale their growth organically. Check out Outranking to know more!
9. Google Search Console – improve your content performance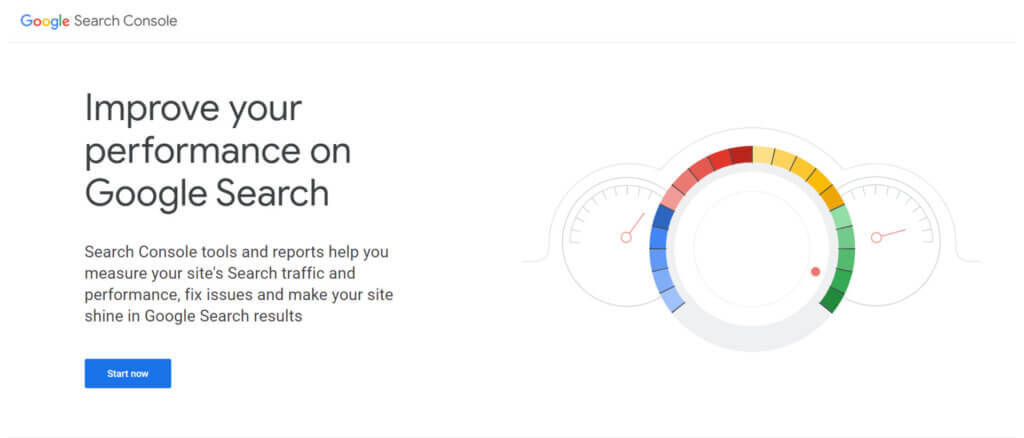 Call it an underrated content optimization tool, but SEO professionals have been using Google Console to learn about their website performance for years. This platform provides a complete overview of how many clicks or impressions your website managed to draw, the underperforming keywords, the click-through rate, and the average position of your site. Google Console can also fix sitemap issues, pages with high rankings but low CTR, page experience, and more.
If you are not aware of this incredible tool, just click on the link below: Google Search Console
10. SEMrush – an expert writing assistant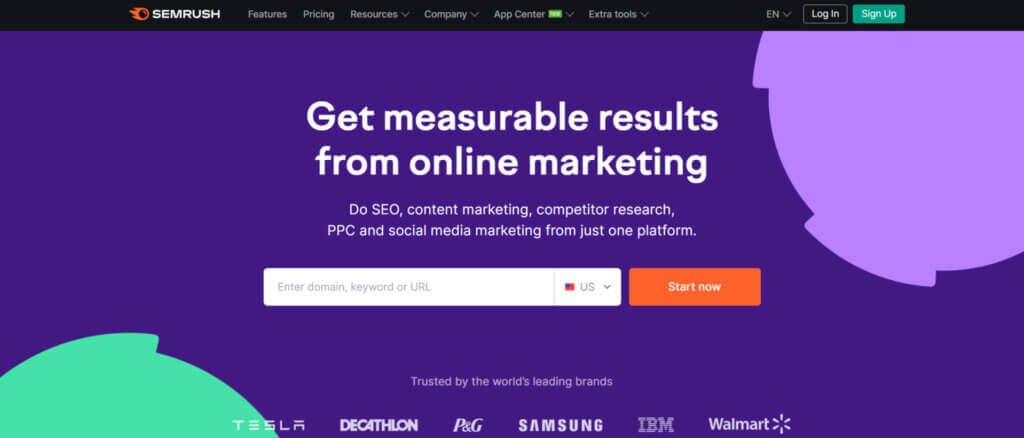 SEMrush has already been ranked as one of the top SEO suites for brands. But did you know it can also optimize your content deliverables? Yes, you heard it. SEMrush has many features, one being assisting in content writing and optimizing them for more views. It helps with crafting SEO-friendly content, and SEMrush does more. From scanning top-ranking pages for targeted keywords to recommending changes in word count, where to get backlinks, calculating average readability scores suggesting semantically related words to use, and many more. In fact, this tool is available as a WordPress plugin.
Learn more about this unique SEO content optimization tool. Visit the site.
11. Hemingway Editor – optimize for readability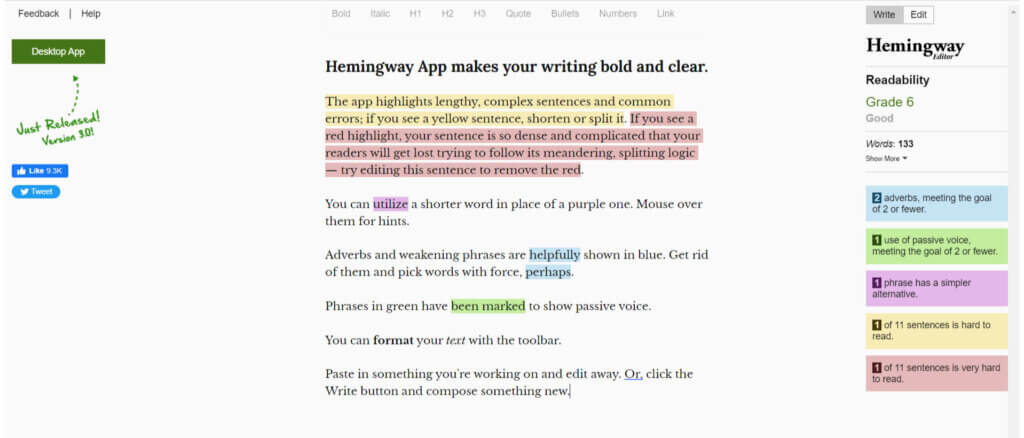 The short description says it all. It works as an expert editor, proofreading your articles to simplify complex and hard-to-read sentences. Next, Hemingway grades your pieces to help writers understand the readability score of their blogs and suggest changes wherever needed. Now, here's the trick – the lower the grades, the better-optimized article is.
Get started with Hemingway Editor right away.
12. Grammarly – improve content pieces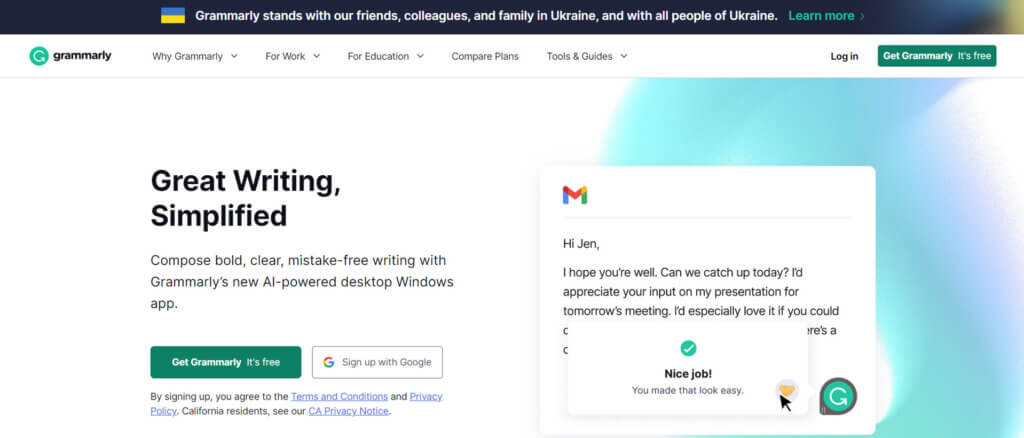 Now, we all have been using Grammarly to write clear and concise pieces. This popular AI-enabled content-writing tool optimizes articles, blogs, and other pieces for your readers. Yes, it doesn't suggest keywords, but it identifies typo errors and eliminates grammatical/spelling issues. Grammarly is available for all platforms, including a web extension. And the premium version also tests for plagiarism errors and optimizes articles accordingly.
If you are unaware of this free tool, check out the site!
13. Content Row – generate compelling copies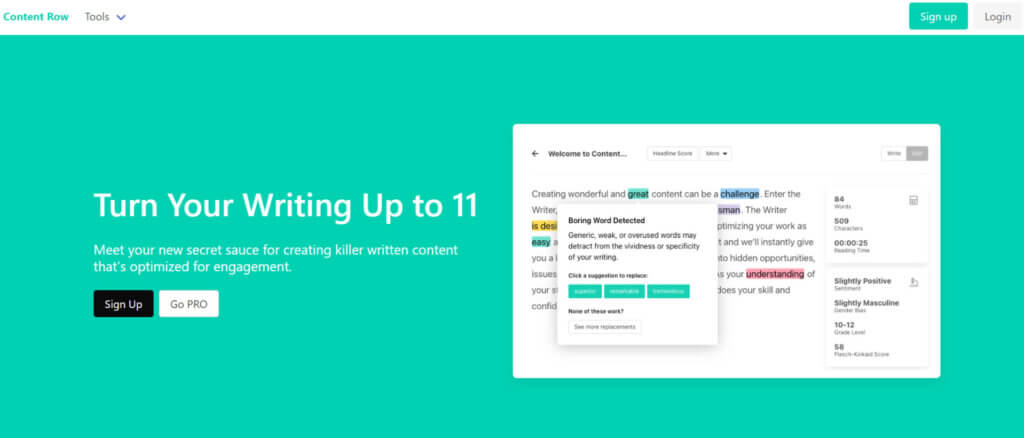 Writers often struggle with generating strong and compelling headlines. But this is very important in SEO content writing, especially to attract readers. Content Row can be the best content optimization tool to help you do the job. Its generated headlines will definitely stir your creativity. Of course, there are other features, such as analyzing headlines for higher quality and clickability, finding trending topics to write about, counting words and characters, converting titles into the proper case, and editing articles. But the headline generator ability is what makes Content Row so unique.
Explore its features and use cases. Visit the site.
14. SimilarContent – optimize content for Google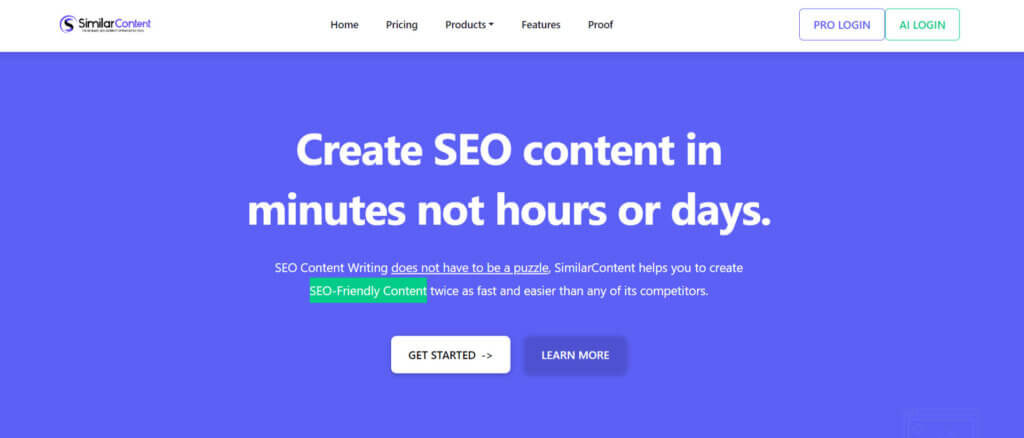 This content optimization tool helps writers to create content optimized for Google's search engine. Further, SimilarContent provides suggestions for unique headlines related to topic ideas, rewriting the content if needed, keyword density, and a lot more.
Check out this application for a better understanding of its user-friendly features and use cases.
15. CognitiveSEO – content optimization expert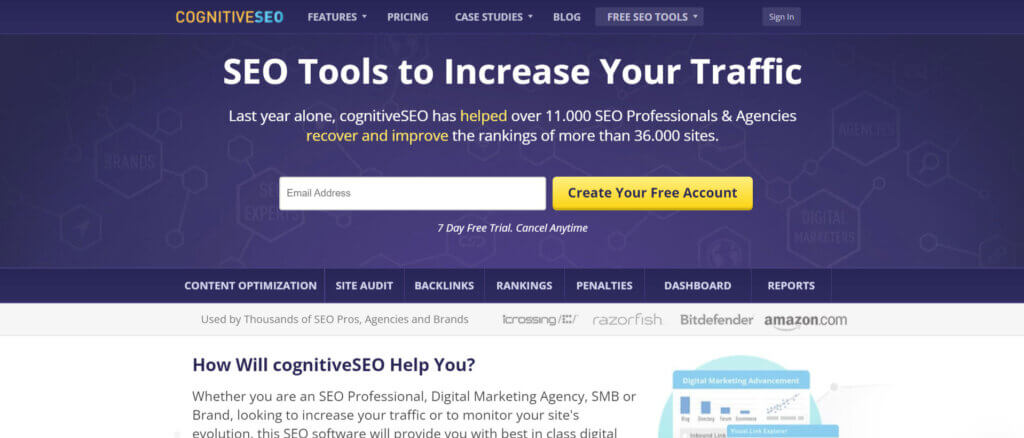 As the name suggests, cognitiveSEO content optimization tool leverages advanced Google search algorithms to suggest exceptional content ideas for your website. The tool allows you to stay ahead of the latest trends in content marketing. Further, cognitive SEO research keywords, optimizes content, and analyzes website rankings. This SEO content optimization tool takes less than a minute to refer to thousands of topics and keywords for your online campaigns as well. You can quickly check keyword rankings and analyze competitor sites performing better than the rest and why. So, owners can easily make informed decisions about the topics or keywords they wish to focus on.
For a better understanding of its various use cases, visit the site.
16. Originality.AI – an efficient AI content detector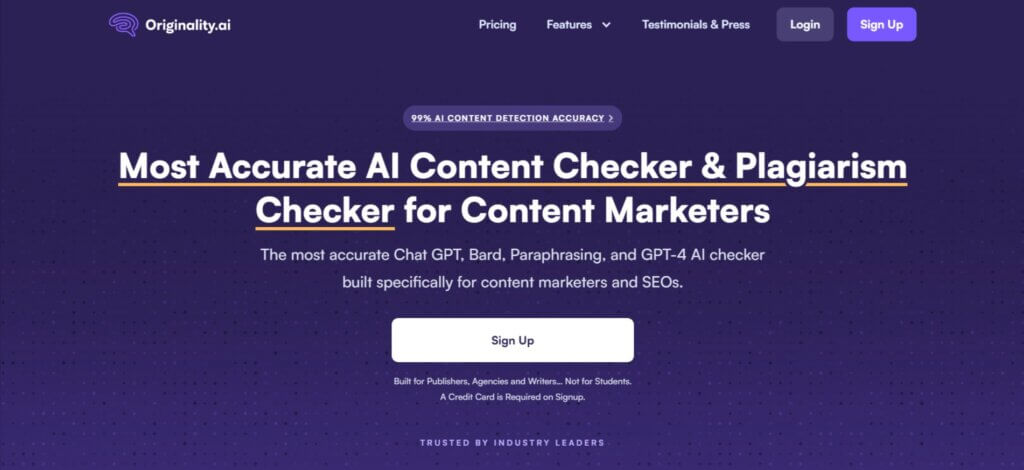 Originality.AI is a unique content optimization tool that enables users to detect AI-generated content easily and check for plagiarism. Multiple studies have proven the tool to be over 99% accurate, earning a 2% false positive rate compared to high false positive rates earned by other tools.
It is easy to prove to your clients that your content is unique and original. Visit the site and sign up!
Conclusion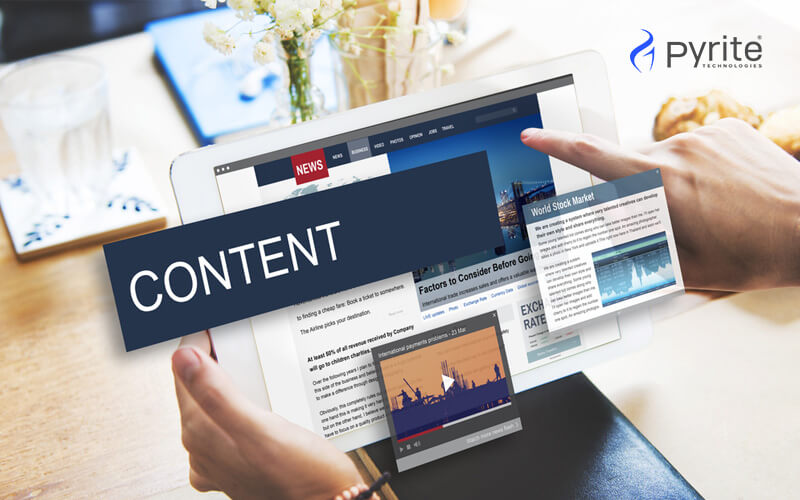 Curating content for higher rankings and more views is a nerve-wracking task. But these SEO content optimization tools help writers overcome their creativity block and deliver pieces important for SEO optimization. In addition, these tools are usually AI-enabled. As a result, they can improve your content marketing strategies, elevate the brand name and reach, and scale digital marketing initiatives for better outcomes.