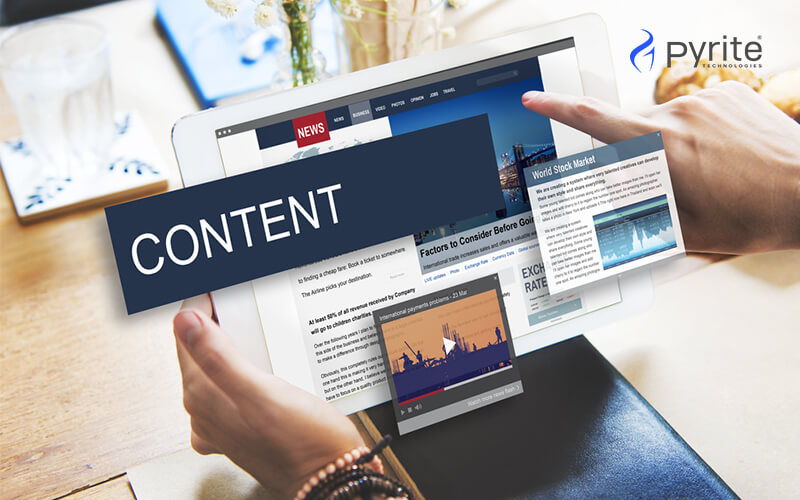 We all know that we live in an era of intense competition. As a customer, we are spoilt for choice and as a brand, we are fighting the competition on all fronts – demand, quality, supply and brand value. With competition becoming tougher day by day, traditional marketing methods are becoming less and less effective. Marketing strategies that worked wonders about ten years back have lost their magic now and marketers are really trying hard to come up with innovative ideas to grab customers' attention.
While trying to reach out to millions of customers across the globe, brands have realized the value of internet marketing. The capability of reaching out to thousands of people in just one click is nothing less than magic. However, there is so much trash available on the internet already that it is really difficult for a genuine brand to fight out the trash and provide valuable information to the intended audience.
So, of course, we know – both as a customer and a brand – that mere existence on the internet is not going to help us in anyway. So, what's that secret to being seen amongst the right audience, at the right time?
The secret lies in the content you provide!
The internet has become smart enough to filter out the trash and make you stand out from the crowd, if you provide value to your customers through your content. The era of back linking and viral promotions has been finally replaced by 'Quality Content'. Brands have finally realized what their customers have always known — that if there is value in the content, the customers will buy your products or at least come to your website to check your products!
Marketing expert Seth Godin goes to the extent of saying "Content marketing is the only marketing left."
So, what exactly is 'Content Marketing' and how is it different from 'Social Media Marketing'?
Content marketing is a form of internet marketing. It differs from other forms of online marketing or traditional forms of marketing as it aims to provide quality content to the customers instead of any kind of hard selling or brand plugging. The focus of content marketing is to address the existing needs of the customers rather than trying to create new needs. The primary objective of content marketing initiatives is to gain customers' attention. Once you, as a business, identify the need of the customers, you can provide content to the customers through various content marketing tools such as blogs, e-book, audio-visual mediums and so on – these are content types that interest them and position your brand in the desired manner in your customers' lifestyle.
There is a lot of overlap between the way social media marketing and content marketing work. That is precisely how both forms of marketing are interdependent on each other. However, there is a core difference in the intent of both these marketing ideologies. Social media marketing has 'hard-core marketing' at the heart of the strategies. It's like producing and disseminating content over social media, but content marketing has 'content' at the heart of the strategies. For example, it involves providing an article about the 'Top 10 trending Japanese dishes' to customers who are interested in Japanese cuisine. Of course, social media platforms are vital for the success of a content marketing campaign, but they are only the carriers of the content — the content is mostly available on websites or some other platform.
To understand the concept better, let's take the example of Red Bull, an energy-drink brand that published YouTube videos related to extreme sports and activities. Very subtly and without much selling, the brand could create a brand personality which appeals to its customers – the ones who need extra energy for strenuous tasks. The value of the brand persona created through these YouTube videos is much more than years and years of hard selling.
The 5 Components of a Content Marketing Strategy
Now that we understand the concept of content marketing clearly, we need to understand the various components of content marketing strategy.
So, what exactly goes into creating a content marketing strategy?
Before we answer the question, ponder over a few other questions:
What does your brand stand for, or what's your focus as a company?
Who are your existing and potential customers? What do they like?
What is the content that you plan to create? Who is going to work on the content for you?
How will your customers find your content so that they can choose you?
What are your success metrics?
Are you getting a sense of where we are headed?
Let's make it simple now.
The 5 questions above pretty much sum up your content marketing strategy. The answer to what exactly goes into creating a content marketing strategy lies in your brand proposition, target audience, and success metrics.
Let's map these questions to the different elements of content marketing strategy – these elements are called 5Cs.
Company focus – What does your brand stand for or what's your focus as a company?
Customer experience – Who are your existing and potential customers? What do they like?
Content – What is the content that you plan to create? Who is going to work on the content for you?
Channel promotion – How will your customers find your content so that they can choose you?
Check-back analysis – What are your success metrics? How will you know whether or not your strategy was successful?
Let's now look at each of these 5Cs in detail.
Company Focus:
Before you even think about 'content' or marketing, you need to ask yourself or your team – what are your business goals? It's the terminal goal that you need to keep in mind. You need to think about your brand's core values and philosophies before you arrive at a conclusion. In the end, you should have the answer to: "What does your brand stand for, or what's your focus as a company?
But how do you arrive at this answer? These stages will guide you to the answer:
Understand your business model and your brand
The USPs of your brand
Vision of your brand
Terminal business goal of your brand
Customer Experience:
Before you jump to define a gamut of wonderful ideas, stop and ponder about who is your target audience – think about the existing as well as potential customers. Analyze your company's sales records. First, figure out who is actually buying your products. Are these the people you intend to sell your products to, or are there accidental buyers as well? Once you have a crystal-clear view of your customers, figure out what their needs are. What do your customers search for over the internet? Do they look for information related to your brand? Can you provide quality information to them related to their search?
The next challenge would be how to provide this content – in what form? What's the form of content that works with your target audience – will audio-visual content work better than plain text and images?
You also need to learn how your target audience will think and feel while interacting with the content that you plan to provide. You should ask yourself: "Am I, as a brand, providing valuable information to my potential and existing customers in the manner they desire?" If your answer is "yes", you are on the right track.
Here are the stages in which you can define your customer experience:
Analyse your customer data
Create customer personas
Develop customer journeys with your brand
Content:
Of course, as we all know, content is king. While analysing your customers' interests, you must have gotten a fair idea about the content you need to provide to your customers. At this stage, you need to arrive at the following decisions:
What exactly will the content be?
Who will create this content?
What's that one key point that will differentiate your content from what's already available over the internet?
The answer to these questions will give you and your team an overview of the idea that you want to lay out in front of your customers. Never hurry up this process – the more you think about the questions above, the higher the chances that you will come up with an innovative idea.
Once you are sure of your content goals, follow these steps:
Define your messaging and brand story
Analyze the existing content
Make a content plan — visualize your own content design and set deadlines
Define a mix of content you want to create – Videos, audio files, websites, and so on
Identify the team who is going to work on the content
Define the roles and responsibilities of each member in your team
Channel Promotions:
You might have the best content – but what's the use if it doesn't reach your target audience? Therefore, having a great content plan is not the only success metric for the content marketing plan. It is equally important to choose your channels of promotion wisely. The answer to an effective channel promotion strategy lies in answer to this question: "How will you ensure that the content you create is seen at the right place and is accessible by your customers?"
The simplest thing to do is to make your content easy to find and share. But how do you do that?
The first step is to identify the promotional platforms that work for your customers and then put together a mix of these platforms. To make your channel promotions more effective, follow these steps:
Make the content shareable – there are options to click and share content over several platforms
Target paid, viral, unpaid, shared, and all other sorts of media platforms to distribute the content
Guest posts and similar collaborative means work great with all kinds of businesses, and if you are a start-up or a new business, it might even open new partnership avenues for you.
Use your brand evangelists and influencers to promote your content
Check-back Analysis:
The focus at this stage is to analyze the impact of the first 4Cs of the content marketing strategy discussed above. The check-back analysis gives you great insight into what's working for your audience and what's not. Based on the results of the check-back analysis, you can:
Re-assess your brand's business model and market value
Re-examine and re-define your content marketing strategy
At this stage, you can stop and reflect on whether or not your brand is being perceived the way you would like it to be perceived and if it's hitting the right chords with your desired target audience. There are certain questions that you should ask yourself at this stage:
Is your brand being associated with the image you want for it?
Has your existing customer base responded to your content positively and enthusiastically?
Has your content marketing strategy introduced you to a new customer base?
Is there something that's drawn any kind of flak? Is there a way to cover up that damage?
What has been the most popular aspect of your content marketing plan? Can you expand on that in the near future? Was it expected or accidental? Do you have a plan ready?
Is your team satisfied with the results? Are they suggesting any changes, modifications, or expansions on the current plan?
Do you think you can introduce a wider channel mix? If yes, what's the rationale behind it?
The answer to the questions above will help you in concluding if the content marketing strategy worked for you and the kind of improvements required in the current plan.
Developing a Long Haul Plan for Content Generation and Planning
So far, we have discussed about a brand's terminal goal, desired image, recall value, and customer connect in detail. But do you know where all this stem from? All this stems from a company's mission. Now, a mission is very different from a vision. A vision can be loosely associated with your company's goal – it can be a business goal or a desired brand image. But a mission is different. A mission is a company's reason for existence.
A mission statement is the answer to the company's ultimate motive – which, in turn, gives a great deal of insight into the way you should project your brand. You need to have the mission statement and its intent clear to all your employees.
Another key aspect for any business is the terminal goal – the goal that we discussed while defining the company's focus point. So, how do discover a company's goal? You obviously can't get your content strategies right until you know very clearly what your company's goal is. Depending on the nature and stage of your business, your goal can be any of the following goals or a mix of a few of them:
Creating awareness for your brand
Generating sales lead
Engaging the customers
Encouraging and retaining leads
Retaining old customers
Encouraging brand loyalty and evangelism
Cross-selling
These goals also help you in defining your Key Performance Indicators (KPIs) or success metrics.
Let's map these goals to your probable KPIs:
Creating awareness for your brand – Customer reactions, queries, and responses online as well as offline
Generating sales lead – Signups for your newsletters, magazines, subscription of your blog and YouTube channels
Engaging the customers – Store queries, long responses on social media platforms, downloads
Encouraging and retaining leads – More followers, spiked sales
Retaining old customers – Word of mouth
Encouraging brand loyalty and evangelism – Word of mouth, shares, followers
Cross-selling – Sale conversions
At the stage of check-back analysis, you can refer to them as your benchmark to measure how much of your goal did you cover. You can even quantify your success in percentage!
Another key to a good content marketing plan, through a long shot one, is to build a culture of content in your company. To get sustainable momentum for your content marketing strategy – you need to have a culture of content. A culture of content means content creation and marketing should be a part of the company's DNA. In the long run, it's healthier to develop a culture where:
People from all departments actively participate in content creation.
Content is shared, discussed, and debated in the company on an ongoing basis.
Employees are encouraged to be creative with the content.
So, how does this help in the long run?
In the long run, a culture of content helps your company:
Have a continuous pool of good-quality content.
Have a lot of employees keenly interested in discussing and sharing the content
Eventually, due to the continuous supply of content to your customer, your company will stand out from the clutter on the internet.
Using Content to Serve the Customers
So now that you understand the different elements of a content marketing strategy and the long-haul plan to make it a part of your company's culture, it is time to understand how the content you create should be actually put to use for the customers. The key is to make customer service a part of your content marketing strategy.
So how should you apply customer service strategy to your content marketing plans? Unfortunately, there is no standard answer for this. The idea of providing data sheets, product documentation, and email support is inadequate for the content-intensive and competitive world we love in today. Today, the idea of providing customer service is more about innovation – so if you are looking for an answer, look at your websites, your portals, your media platforms, and all other customer-facing platforms to see how you can focus on adding customer service content to each one of them. This effort will pay off in the longer run. You will see:
An increase in your loyal customer base
Happier and more informed customers
Customers perceive your brands the way you want them to perceive it
An opportunity to interact and content with the customers to provide real solutions to their problems
In order to address these issues, you can go back to your content strategy board and fill in the gaps. You can have support websites, guest posts, and webinars targeted to address the needs of people who have highlighted the issues. This will help you in customer retention by providing the crucial information they need.
User Designs and Habits
Last but not least, are two additional factors that you need to keep in mind when creating a content marketing strategy for your brand.
We're talking about UX and customer habits.
UX: UX is the experience that the user has when he/she is navigating through your websites and portals while reading your content. The user experience plays a key role in customers coming back to your website for information and eventual retention.
Customer habits: Your customer habits impact the way you sell or present your product. Therefore, the content that you create to attract customers to experience your brand must-have elements of familiarity. If you introduce something that needs a sudden behavior change, the chances of acceptance are very low. On the contrary, if you can attach the use of your product to a prevailing habit, you will find it easier for people to accept the product.
Conclusion
Defining content marketing strategy is very much like the art of drawing and developing a large story that a company wants to communicate to its customers. While the core of content marketing, like any other marketing initiative, is product promotion – content marketing is focused on providing value to the customers and engaging them in a way that builds a long-term relationship.
The 5 key elements of a successful content strategy are company focus, customer experience, channel promotion, content creation, and check-back analysis. A long-term effort to build a culture of content is the best way to leverage expert information inside the company to deliver quality content that clicks with the customer. Last but not least, the user experience offered around the content also is a crucial aspect of a company's content marketing strategy.