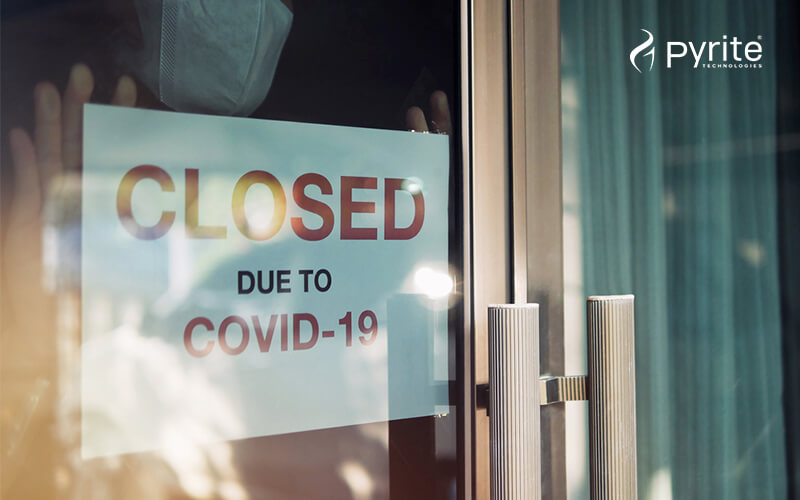 As the Novel COVID-19 pandemic has spent the greater part of this year on a worldwide tour, the after-effects forcing us to adapt and learn new ways of living. In this scenario, companies that can survive this challenging environment are the ones who have already begun to pivot to the digital marketplace. But just having a functional website and e-commerce presence doesn't help in the long run; it is only half the battle. Getting customers to those product pages is equally important.
Industry experts say now is the right time to experiment with various facets of digital advertising. Boosting spending in the middle of a global crisis is counterintuitive, but companies are busy doing the needful and actively taking advantage of reduced competition and prices. Whether big or small, every entity can experiment with new digital marketing avenues like paid ads, reduce online ad spending, CPM rates, PPC, and more.
Business Impact of COVID-19
Did you ever think that one microscopic virus would travel the globe in a matter of weeks and disrupt life as we know it? Well, this pandemic has successfully managed to amaze, which is both pretty incredible and also mildly terrifying.
COVID-19 has compelled businesses to transition online to showcasing their products and services and reshaped every industry operation. The pandemic is, in a way, forcing brands to create content that is both contextual and relevant. The remote work setup prompted by the social distancing measures has created the need for virtual marketing. Whether brands, customer interactions or conducting overall business, today, everything is virtual and digital. Below are the few changes in the landscape of the digital marketing industry due to the long-lasting impact of COVID-19:
As per reports by Influencer Marketing Hub, there is a rise of 62% in U.S. consumers. Statistics say more people are shopping online now than they did before the pandemic.
A survey stated 69% of people in June 2020 said they would specifically attend virtual/online events unless the vaccine is available. Almost 40% of consumers said they would stick to online shopping any day because it is convenient. Consumers are exploring new retailers which they had never used before. It is undoubtedly a big plus for newcomers trying to establish themselves as big brands. Likewise, many brands are putting less effort and engaging less with consumers, certainly hampering the business. It is no longer possible to operate a business without digital presence. Interestingly due to this pandemic, 26 % of consumers have started experimenting with online shopping.
The downfall of business in COVID-19
The economic implications of coronavirus are havoc and impactful. Latest trends like remote working are the need of the hour. Every industry is embracing new changes to survive.
The first set of highly affected industries that incurred substantial financial loss are accommodation and food services, arts entertainment and recreation, educational services, transportation and warehousing, and wholesale trade.
The second list of sectors that were hit hard by the pandemic is healthcare and social assistance—followed by that; the third segment comprises retail trade, manufacturing, administrative and support, construction, and information services.
Finally, professional services, real estate, rental and leasing, companies and finance management, and insurance were the least affected ones.
Sectors with Severe Impact Due to COVID-19
Consumer shopping behaviour, global advertising, and essential industries were among the most impacted ones, followed by the food, medical, travel, entertainment, and transportation sectors. Even the stock market speaks about how coronavirus has led to a volatile economy.
After the Great Depression of 1930, the pandemic is the worst financial crisis which is estimated to take away 255 million full-time jobs
The initial outbreak of the pandemic in China disrupted global supply chains. Yes, the short-term effects are ending, but having said that, the long-term economic impact would ripple for many more years.
Reports say that 3.28 million Americans filed for unemployment benefits in the last week of March 21

Experts say a "startup depression" is anticipated where new companies would restrict themselves from entering the market due to the ongoing pandemic.
Travel, tourism and hospitality were the most badly impacted sectors by COVID-19. Due to sudden travel cancellations, the shutting down of restaurants, and low consumer confidence, everything went for a toss. Impact on manufacturing industries were massive due to lay off decisions, but compared to others, these industries could suffer the strain as consumer demand drops with market conditions. Estimation says that more than 99% of businesses are small businesses and are known for employing about half the U.S. workforce.
Industries Recovering Post COVID-19 Pandemic
As the pandemic has slowly started to make the world a better place to live in, we can already notice certain industries performing better. The impact was devastating hence, reviving would take due course of time. In spite of all odds, the graph below gives a fair idea of the recovery rate of various industries.
Introduction to Digital Marketing
Digital marketing is the new normal. Whether it's banners or big data, online presence or digitalization, business is continuously evolving to cater to doers and brand's needs. Today, with increased connectivity and established digital infrastructure, changes are happening much faster than expected. The future of digital marketing is not just bright but also promising.
Digital marketing professionals should set their goals by following the 5 'S' of digital marketing. These 5 'S' are sell, speak, serve, save and sizzle.
Digital marketing agencies primarily focus on traditional digital marketing services like paid media, SEO, marketing, social media community management, and a few more digital marketing solutions. The digital marketing business is experiencing dramatic developments and changes as innovations in technology continue to develop.
An Overview of Digital Marketing
Digital marketing means promoting products and services via the internet. In a broader sense, promoting products with the internet or any other electronic media platform is digital marketing. Online or virtual presence is the key to digital marketing technology.
Digital content consumers are increasing at an alarming rate. Digital marketing services very soon will take over the market altogether and traditional marketing platforms will disappear. Out of the plethora of digital marketing solutions, and unlike conventional marketing, digital marketing technology is more affordable.
Future of Digital Marketing
This new form of marketing is considered the most powerful one by industry veterans. Every day the scope is getting more expansive, and the future is promising and here to stay for long. However, as the dynamics change every passing day, a good marketer is expected to be agile, adapting and embracing new challenges.
Voice search is one of the best digital marketing strategies that will undoubtedly increase in 2021.
Digital marketing services are gaining popularity because it is one of the best channels for promoting goods and services, followed by generating more business revenue. The number of smartphone users is engaging more specifically with the e-commerce segment by making SEO even more important than ever.
As per the Gartner hype cycle for digital marketing, the future depends on Real-Time Marketing as the major channel for driving traffic to your business. This means that Localized marketing, Mobile Optimization, Ads/Commerce, Mobile Security, Display Advertising, Contextual Marketing and Proximity Marketing will pick up the pace in 2021 and stay until 2030/31.
Why Digital Marketing is Crucial to all Businesses:
The role of digital marketing is uncomplicated. All it does is help you generate new traffic, leads, and sales for business by reaching out to potential consumers. Web marketing or digital marketing is the process of promoting or marketing your company online to prospective high-value consumers and leads. The best part is you can always deploy some in house digital marketing tactics. All you have to do is determine and identify a digital marketing strategy that your employees can accomplish.

Digital Marketing is quickly evolving as a must-have skill that employers are constantly looking for. Needless to say, as the market shifts, the gravitation to online business is forcing companies to master the art of digital marketing and advertising. If not adopted, especially during times like the coronavirus pandemic, the business will no longer be part of the corporate race.
Out of many industries, the following have successfully incorporated digital marketing tactics and were massively benefitted.
Marketing

Law

Retail

Health

Training and education

Automobile

Food

Entertainment

Real estate and

Fashion industries
Importance of a Digital Marketing Agency:
Needless to say, the digital marketing industry is evolving. Every digital marketing professional needs to be on top of the latest digital landscape trends, or they'd be left behind in this new digitalization race. There are a plethora of digital marketing strategies to grow your business. There is nothing like the best digital marketing agency. It entirely depends on the need and nature of a company, followed by how it would want to promote itself as a brand.
However few of the notable ones are: Try to establish a solid social media presence, ensure to publish a weekly blog, pay heed to the power of search engine optimization and last but not least, work on an email list. So what precisely a technology company shall be doing to maximize its investment in marketing initiatives. Every organization should look out for tools and strategies that have the most potential to engage decision-makers.
The List of Digital Marketing Services:
In recent years, the B2B buyers demographic and habits are constantly changing. An individual serious about brand success certainly knows how critical the digital marketing industry is in generating leads for a business. Today a digital marketing agency service isn't just for B2C; it is appreciated even for B2B brands. If invested effectively, reaching a potential younger demographic of B2B buyers who increasingly use mobile in purchases can prove to be a big hit.
A Digital Marketing Strategy Varies with B2B and B2C Companies
In a business to business setup, digital marketing would involve companies and other organizations to help and promote them. It usually happens between 2 businesses as the end customer here is the business itself. Likewise, in a business to consumer format, a company's digital marketing professionals would deal directly with the end-customers who will use a specific brand's products and services. B2B and B2C marketing strategies share countless similarities, but there are also many distinct differences.
Well, B2B marketing is about selling to other businesses, and the marketing tactics and efforts target a small group of professionals. These experts make a purchase decision on behalf of their organizations. On the contrary, in a Business consumer setup, marketers are directly selling to the consumer. However, it is much more complicated, expensive and takes longer to convert a B2B customer. The B2B purchase cycle is much longer and often involves a vast command chain than the B2C process. Usually, a buyer of consumer service or product takes less time to take the final call. The expected differences are:
Target audience

Logic vs emotion

Return on investment

Content marketing

Marketing costs

Buying cycle
B2B Digital Marketing Strategy Post COVID-19 Times
:
Over the years, the B2B landscape has undergone a significant transformation. The emergence of digital platforms and technologies has created a noticeable impact on marketing strategies. Thus, companies change their B2B marketing strategies, including digital channels like email, social media, and content marketing. It will eventually help to establish a strong brand presence and drive lead generation for a business.
B2C Digital Marketing Strategy Post COVID-19 Times
:
The first and foremost reason to embrace B2C digital marketing is that it gives unlimited business exposure. Apart from that, you can expect reduced marketing costs. Traditional B2C marketing methods were expensive, but digital B2C marketing is much affordable. Reduction in costs increases your profit margin.
Digital Marketing Strategies of SMEs:
Not having enough resources to have a full-time digital marketing professional is a usual scenario. However, with limited resources, you can consistently recruit someone whose part-time role and responsibility is to execute some of your digital marketing tasks. An entity that is growing and has limited funds can always opt-out of digital marketing tactics.
In-house Digital Marketing
With the emergence and easy accessibility of the internet, the field is the same. Those days are gone when digital marketing services were only for big companies with the required resources and budget. This new form of marketing is creating a platform to catch up to their big-name counterparts quickly. Digital Marketing solutions are both perfect and crucial for Small Businesses.
Whether a small business or a startup, not having both money and time is not unusual. Needless to mention but investing and setting up a whole new team offering digital marketing services is a challenge. Facing an obstacle is perfectly fine. You don't need plenty of resources; all that's required is a simple yet reliable digital marketing plan for the business.
The Organization Size Doesn't Matter. Interestingly, the digital marketing business permits healthy competition. Working together on the same platform with other big and established brands makes it competitive and better for all. SMEs digital marketing makes things easier for small businesses to compete in a more significant marketplace. Using the right tools and tricks makes and breaks everything.
Digital Marketing Strategy for Individuals and Influencers in Post COVID-19:
The process of establishing a successful connection with potential consumers online is known as digital branding. It is the fusion of storytelling, visuals, and a few other techniques that would eventually increase awareness.
Here is a list of tips for developing your brand:
Always emphasize and figure out who you are

Determine a parameter you want to be known for exactly

Understand and define your audience

Research and follow experts

Ask for infotainment interviews

Ensure to embrace networking

Always ask for recommendations

Learn to grow your online presence.
Digital Marketing Platforms for Personal Brand Building
:
A captivating personal brand speaks in volume. Build a foundation, target the audience, offer compelling content, don't forget to optimize your personal website, have a visible content strategy followed by that try and build a community.
Podcast:

A podcast certainly adds to your social media efforts. Sharing episodes on social media platforms invite more traffic. Today, a podcast is vital because it is both educational and acts as a digital marketing tool. In simple words, a podcast is a digital audio file that users or subscribers can listen to from any device.

It is more like your own personal radio show where you discuss any topic with whomever you wish to. Podcasting popularity is increasing at an alarming rate. A prime reason for this popularity among listeners is the number of choices podcasts listeners have the option to choose. According to Edison Research and Triton Digital, approximately 62 million Americans are listening to podcasts each week.
Influencer marketing:

The fusion of old and new marketing tools is influencer marketing. Today, it is an established form of online marketing. It is now a buzzword for some time, but the mainstream media regularly refers to it.

Influencer marketing is the result of campaign collaborations between brands and influencers. Most of the time, these people would have never considered themselves famous in an offline setting. Interestingly, influencer marketing doesn't just involve celebrities. Instead, it involves random people who eventually become influencers.
Personal website:

A good and unique website always helps. It is about learning how to craft and curate content that tells everyone about an individual and their services. It helps to engage visitors and learn how to be more visible and popular on social media and eventually promote a site. A personal website allows one to stand out from competitors. It functions very similarly to a resume. A unique website has more freedom; they can choose to be both extensive and engaging. As the inclusion of photos, work samples, and even testimonials are allowed; thus, it makes the websites all the more inviting.

A website is the most potent tool for communication in reaching the target audience and creating brand awareness. A personal website is a unique way to connect with the world.
YouTube

: YouTube is the second most visited website after Google, with more than a million new visitors every month. It gives the audience more content than any other platform. Good content is the key. Today, all that matters is on-time, accurate content. The longer the visitors stay, the better the content is, and they are more likely to come back and visit more often.

Video with time has become an integral part of Internet users, and the online experience gets better every day with better video content.

Captivating videos with good content finally helps to increase the

number of leads to your business. YouTube is overflowing with content that is valid enough a reason to stay connected with YouTube today. Using YouTube for business growth is not only cost-effective but can also be proven as one of your best marketing strategies. Stat says visitors are investing six billion hours every month, which makes this platform ideal for promoting business.
Blogging:

Blogging is vital when it comes to marketing. Today, blogging is a powerful and critical component of any digital marketing strategy, irrespective of business size. Effective blogging is an integral part of a digital marketing strategy. It drives traffic to the website, followed by generating new leads for organizations, which further nurture those leads and increase customer base insight. It is inexpensive and convenient for small businesses to drive traffic to their site. Blogging also enhances inbound marketing efforts by attracting more prospective customers. These well-written informative blogs help visitors gain in-depth knowledge about products and organizations services. Blogs are critical as these often serve as a medium to convert the visitors into your customers.

It can increase your leads by 67%, which would eventually fetch up to 97% more links to your website.
Quora:

Last but not least, Quora is another great tool for amateur digital marketers. A nicely curated answer to audience questions is what the platform Quora provides. Always remember that Quora's objective is to answer questions meaningfully and not just by advertising or promoting. The two most crucial aspects are social media marketing and search engine optimization for promoting business and generating revenue.
Conclusion: Today, advertising requires a minimum budget to test different options to see what works and what doesn't. Due to the pandemic, the rates and competition for keywords are low. Thus, now is the time to brush up on digital marketing tactics to build a solid foundation for success. It can be as a candidate for a bright career in a marketing job or as an entrepreneur. There are few things every digital marketer needs to keep in mind for the future: With or without COVID, always ask for reports, ensure to keep a check on the ROI of business and keep a close eye on details of ROI and budget.
FAQs:
What is a B2B and B2C Digital Marketing Agency?
B2B business is about investing in considerable space and acquisition in regards to business. Whereas in B2C, the window to influence consumer behaviour is much smaller. B2C marketing is operational in smaller areas, and on the contrary, B2B marketing works on a large site.
How to become a Digital Marketing Professional?
Learn the fundamentals; it is doable in just 12 weeks. One pro tip is joining a startup; they allow learning everything from the beginning of the journey. Due to limited resources, learning fast is the only option in a startup.
How to proceed when hiring a Digital Marketing Agency?
The process is pretty simple. Building a worthy team with a limited budget is challenging. Hence, search out for the most talented individuals, convince them about the brand's promising future or the organization, and get them on board. Consistently implementing the proper techniques like dive deep into their social media platforms, audit their LinkedIn network, ask for testimonials and case studies, Google about them, look out for their values and alignment, and assign a brand new project.
Does Google promote Digital Marketing Services?
Every digital marketer considers Google Ads as the primary tool for the digital marketing industry. Any business or brand looking to get meaningful ad copy in front of its target audience will seek Google ads. Google Ads, also known as Google AdWords, is the most powerful digital marketing channel available to marketers today. The largest advertising platform to have ever existed is Google AdWords.
How to Budget Your Company's Digital Marketing Services?
Any organization should approximately expect to spend 10-20% of revenue on digital marketing. As we all know, digital marketing is more effective and affordable than any other traditional forms of marketing; thus, it is worth investing. It is always advised for business owners to have a thorough research about the costs involved before deciding the budget used to drive their business growth and success.
What is an optimum digital marketing budget for Enterprises, SMEs and Startups?
A general rule of thumb is that entities should spend approximately 5 percent of total revenue on marketing to retain their current position. Any brand or company looking forward to growing or gaining a more significant market share can increase the budget to 10 percent.
Do I have to learn Digital Marketing to read the Reports?
The answer is no. Reports are in numbers like any other usual reports with data and figures, so individuals need not learn digital marketing to read statements.