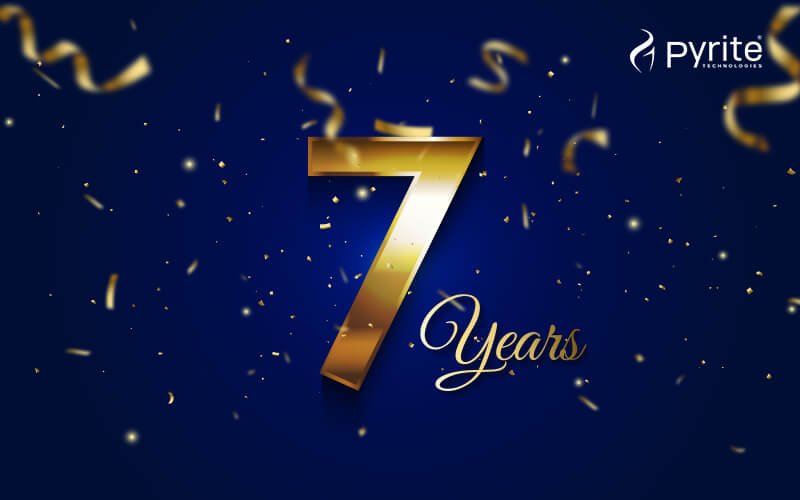 7 Years and Counting…
In this competitive era, each year that a company continues in the business calls for a celebration. And we are proudly doing this for the 7th time!
First of all, a big thank you to all our clients and employees for all your support and keeping us in the business for 7 long years.
Started as a technology blog coolpctips.com, Pyrite Technologies has transformed into a full-fledged Enterprise Digital Marketing agency, offering services to many corporates and Fortune 100 companies. In these past 7 years, we have seen many ups and downs in our industry and we thank our clients, partners, associates and well-wishers for their continues support to help us grow.
On the occasion of this colorful 7th anniversary, we have chosen VIBGYOR as our theme this year, as we think that the 7th year is the most colorful of all.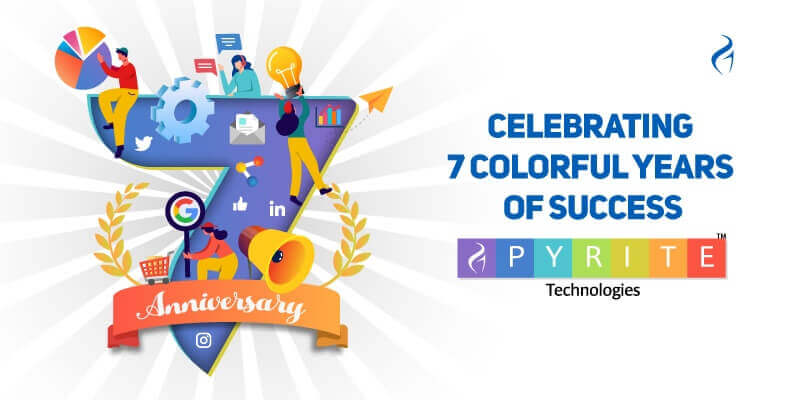 7 Years at a Glance
As Pyrite Technologies successfully completes 7 years of excellence, let's recollect some significant moments from our journey.
Year 1: 2012
What was started as a technology blog in 2010, saw a great shift in 2012. Our CEO Satish Kumar had the dream of starting an SEO and Inbound Marketing company in Hyderabad which would serve the needs of today's businesses.
After graduating from college, Satish Kumar fulfilled that dream and established Pyrite Technologies with his partner since the very beginning and co-founder, Rahul Gondane.
Initially, we started offering SEO & Inbound Marketing services along with SEO training sessions and got a great response from our clients and students.
Year 2: 2013
Within one year, we transformed into a full-fledged Inbound Marketing company.
Our Digital Marketing training program got very good response from attendees and many of our students got placed in some well-recognized companies.
This year, we also recruited our first 3 employees. As the team started growing, we shifted the office to the heart of the city, Begumpet.
Year 3: 2014
With a team of a few dedicated professionals, we mastered multiple industries and successfully offered services to clients from the fashion, technology, health, and eCommerce to electronics and education industries.
We also launched the new logo of Pyrite Technologies and started offering website development services to multiple clients.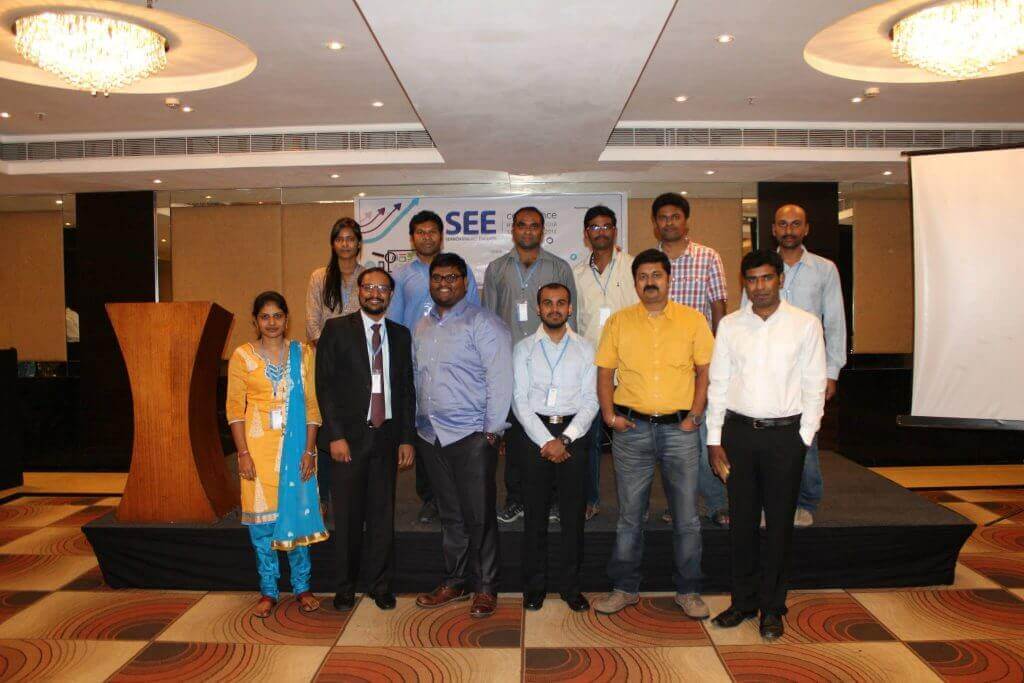 In 2014, we conducted our first workshop on Search Engine Marketing (SEE) Conference at Taj Deccan, Hyderabad and invited 100+ professionals from various industries to discuss about the digital marketing trends and challenges faced by companies.
Year 4: 2015
2015 came as a crucial year for Pyrite Technologies as we transformed from an Inbound Marketing company to a Digital Marketing agency by mastering SEO, Ecommerce SEO, Local SEO, and Lead Generation.
This year our CEO Satish Kumar has attended his first MozCon in Seattle, Washington, in the United States of America.
Inspired by Moz's TAGFEE culture, he introduced the same in Pyrite Technologies.
"Being a great place to work is the difference between being a good company and a great company."
TAGFEE is the acronym for Transparent, Authentic, Generous, Fun, Empathetic, Exceptional. As they say, there is a better way to do marketing! We also believe the same and have adapted this philosophy in our office culture.
From this year onward, we also started going for team outings to different locations which have helped us to grow as a family, defying all odds!
Year 5: 2016
The next year we had many creative minds joining the team, and with their support, we entered the Corporate Digital Marketing sector and started working with 2 of the top 5 IT companies in India.
Along with Digital Marketing and Social Media Marketing, we also started offering Video Marketing services including animation and explanatory videos to our corporate clients. In 2016, we redesigned the website of Pyrite Technologies to give it the current look.
This year, Satish Kumar has attended one of the most premium search marketing expo, SMX East in New York, in the United States and have gained a lot of information on ways to improve website performance.
Along with MozCon, this year Satish Kumar attended Dreamforce 2016 and gained some great knowledge about Sales, Marketing and CRM Clouds. He was also invited to Google Webmaster Tools and Google AdSense workshops and acquired in-depth knowledge about both of them.
Year 6: 2017
As we expanded our business, we needed a bigger office space with better connectivity. So, we shifted our office to a new location near the technology hub, Hitec City. With the new move and a new team spirit, our Hyderabad branch started thriving.
In the same year, we have expanded our wings to multiple cities including California, Mumbai, and Bangalore with 50+ professionals working with us across locations.
This year, we made a huge investment and purchased a 40% share of Marvelens Studios, a Bengaluru based creative Video Marketing company. We also launched our Mumbai based travel website, Travenix.com
For the first time, one of our senior managers Mallikarjuna Reddy from Pyrite Technologies had accompanied Satish Kumar in MozCon 2017 in Seattle, Washington, United States.
In 2017, we have started serving onsite requirement for top IT companies in India. Also, this year, Satish Kumar was invited as a speaker in IIT-P and had delivered an intensive session on digital marketing.
Year 7: 2018
Inspired by the success of our health websites, we started working on a revolutionary health app. In 2018, we successfully launched the ground-breaking Health & Diet Plan Application – The Fit Indian, and great success. After the initial launch, we tried it with a closed group of people and have rectified all the technical errors to offer the best experience to our clients.
Along with this, we were providing full-fledged Enterprise Digital Marketing services to many corporate clients. This year, Satish Kumar has spoken in SEMrush Hyderabad Meetup and presented a webinar named SEMrush SEO Surgery India 2.4 while addressing the pain points of website owners and shared key takeaways about SEO and link building.
In 2018, Satish Kumar has attended SearchLeeds, one of the largest gathering of marketers in the north of England. This is a one day search marketing conference with over 2000 attendees from across the world.
Consecutively for 4 years, Satish Kumar has attended MozCon 2018 along with Digital Marketing & SEO Conference, Ungagged in London.
Attending MozCon and Ungagged in 2018 was our biggest step in getting closer to Enterprise Digital Marketing services, as learning from experts is always one step ahead of the competition.
Along with work, we also believe our employees should be super fit and active to be creative and enthusiastic at work. So, we arranged indoor and outdoor sports activities like cricket, volleyball, chess and more twice a month and encourage all team members to participate in them with great enthusiasm.
Year 8: 2019
In these 7 years, we have seen many challenges and successes along the way. And, 2019 is the most colorful of all!
Along with leading across various industries, we have been helping many Indian IT companies to drive leads on Artificial Intelligence, Robotic Process Automation, and Banking Services through Enterprise Digital Marketing.
Recently, Pyrite Technologies in association with SEMrush organized an intensive workshop on advanced Digital Marketing where Satish Kumar has taken an in-depth session on competitive research, technical SEO and site audit, on-page optimization, backlink analytics and paid advertising using SEMrush marketing toolkit. You can read the full details of the workshop here.
Inspired by the success of this workshop, we are organizing an advanced workshop on Enterprise SEO, where Satish Kumar will share advanced techniques and strategies to rank highly in search engines and get unlimited traffic to a website.
This year, Pyrite Technologies has helped one of their clients to host the entire Australian Cricket team in a local gym in Hyderabad, giving the media coverage, buzz on social media and visibility to both the parties.
This year Satish Kumar is also speaking at the prestigious SEMrush Marketing Show to be held on December 5th, 2019 in Bengaluru, Karnataka, India. With 2000 participants and 40 speakers, this is going to be a mega event in Digital Marketing with a lot of learning.
Our Team – The Strongest Pillar of Our Success
"An organization, no matter how well designed, is only as good as the people who live and work in it."
It's not just the company anniversary, it's the anniversary of a family that stood together against all odds and has taken the company to a whole new level!
We started with a few and now have many creative minds striving together for the same goal of offering superior services to our clients.
Birthdays at Pyrite Technologies
We celebrate each employee's birthday with a yummilicious cake and loads of fun.
Join Our Awesome Team
We are looking for more bright minds to join our team. If you're creative, hard-working, and are passionate to work in the field of Digital Marketing, you might want to work with us.
Growing As A Truly Global Company
With the experience of 7 long years in this business, we plan to serve our existing and new clients with more cutting-edge services and help them achieve their business goals.
On the 21st of August, Pyrite Technologies has successfully completed 7 years of journey. Now that we are working with 2 of the top 5 IT companies in India, this year onward we will be majorly focusing on Enterprise Digital Marketing and offer top quality services to our corporate clients.
Our beliefs revolve around consistent learning and evolving ourselves in this dynamic era. During all these years, we have developed a strong company culture and transformed Pyrite Technologies into a truly global company in terms of values, team members and our biggest strength, service quality.