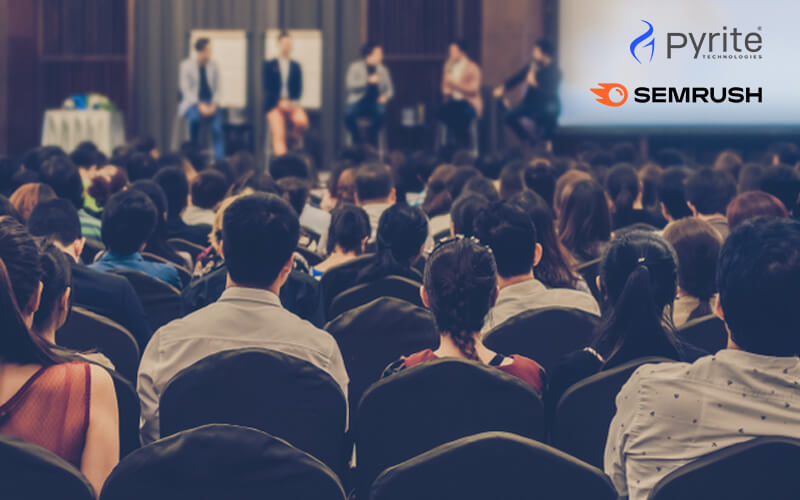 Pyrite Technologies in proud association with SEMrush, has recently organized an intensive training on how to boost marketing growth with the right tools and techniques.
The event was organized on 20th July 2019 at Radisson Hyderabad, Hitec City. With very limited seats, the tickets were sold out almost immediately after the event was announced.
The participants were told to bring their laptop to see how to utilize SEMrush's powerful tools in real-life situations. Along with an in-depth understanding of the tool; networking with other SEMrush users and highly experienced marketers was a big perk of attending the event.
With around 90 participants from various companies, it was an information packed session and was hugely successful. This product training session had also uncovered SEMrush quick wins and best workflows followed by an interactive question-answer session with the trainers.
Planned Agenda of SEMrush Meet-Up Hyderabad
The main agenda of this SEMrush meet-up was to offer a 3600 overview of the tool along with an opportunity to get certified by SEMrush. Here is the detailed agenda:
11:10 am SEMrush overview
11:30 am SEO toolkit
1:00 pm Lunch
1:30 pm Advertising toolkit
2:45 pm Content toolkit
3:15 pm Social media toolkit
3:45 pm Tea break
4:00 pm Collaboration and reporting tools
4:30 pm Q&A session
5:00 pm Certification
Quick Summary of SEMrush Hyderabad Meet-up
The event started with an overview of the workshop by Yulia Aslamova, Regional Marketing Manager at SEMrush. It was followed by the training sessions from our CEO Satish Kumar, Enoch Pakanati, CEO at The Smarketers and Yulia Aslamova. Here is a quick summary of the SEMrush India meet-up at Hyderabad.
SEMrush SEO Toolkit by Satish Kumar
Satish had given a detailed overview of SEMrush SEO toolkit including Competitive Research, Keyword Research, Backlink Analytics, On page SEO, Link Building, Traffic Analytics, Rank Tracking, and Workflows.
Satish has started his session by asking the participants,
"How many of you think that SEO is dead?"
While answering the question, he had pointed at the agenda and showed that SEO has the highest time allotted (1.5 hours) in this event. So, the importance of SEO is easily understandable. Fortunately, it also holds the majority of SEMrush or any other SEO tool for that matter.
The session was further divided into below subtopics:
Competitive research
Keyword research
Technical SEO
On-page optimization
Off-page optimization
Rank tracking
Workflows
Competitive Research
Satish had highlighted that competitor analysis is the most important thing for any business to get started. One needs to have a list of at least 5 competitors and always monitor their key data like organic keywords, search rankings, advertising keywords, backlinks and everything else to be the best in the industry.
He has taken a live example of a travel consultant (International Visa Consultant) and did Competitor Analysis on spot by looking at their backlinks, keywords, search visibility and competitors. He has also told the importance of analyzing traffic on both mobile and desktop.
Another aspect he had highlighted was about analyzing domains and subdomains and shown how to see visits, unique visitors, pages/visit, average visit duration, and bounce rate.
Satish has also highlighted that;
One needs to keep the Bounce Rate under 60-70% to get the optimum results.
He has also stated that why it is important to keep a track of the historical data and check every single month what went well for them.
Keyword Research
He has discussed the importance of performing our own organic research and told why it is important to identify the keywords that are driving the most traffic and had given an overview of the most important KPIs.
He has also shown how to do keyword research effectively, showed the difficulty and shared insights on how we can target the keywords easily.
Technical SEO and Site Audit
Analyzing the health of your website is a crucial aspect of SEO. And, SEMrush has a high-speed powerful crawler with over 120 checks for that. Satish had discussed Website Audit in detail and shared the tips to do Technical SEO in the right manner.
He has shown how to do website analysis with the tool by using their flexible settings for the domain, subdomain or subfolder crawling.
SEMrush allows you to see the in-depth reports to analyze AMPs, HTTPS implementation, correct usage of the hreflang attribute, crawlability and indexability.
Satish has also highlighted the importance of Backlink Audit and the importance of keeping an eye on Google core algorithm updates to know if the site has got any penalty and on which date.
On-Page Optimization
On-page optimization is a key component of ranking. But often, people forget to keep an eye on the same. From page title to meta description and interlinking, there are various factors which seem small but has a significant role in ranking a page.
Satish has highlighted the importance of on-page optimization and has shared that one needs to make a list of all on-page issues and check every month for any error that might have arisen.
Off-Page Optimization & Backlink Analytics
In this section, Satish has shown how to audit an entire URL and find the competitors' recently build backlinks, overall backlink profile, their top-performing pages, discover the domains with most common backlinks and find the topical anchor texts of the competitors.
He had highlighted why IP addresses should be different while building backlinks. In an example, he had analyzed a URL with around 44000 backlinks and only 42 referring domains and discussed how risky that can be. He has also shared that, there are a lot of services offering IP selling in the same servers.
Satish has talked a lot about the importance of anchor text variations and how it will save you from penalties. He has also announced that he will discuss the advanced link building strategies in his upcoming workshop on Enterprise Digital Marketing.
Rank tracking
Satish has discussed why it is important to track the rankings for domain and subdomain for a specific set of keywords on a daily basis and had shared the importance of tracking the rankings in mobile and desktop separately.
According to him, even if you're seeing that you're ranking in number 1 for a particular keyword, it can be a Google local snippet. So, it is important to analyze which location the keyword is ranking for.
Another interesting feature discussed in the session was SEMrush Sensor, Google's rank and algorithm tracking tool that measures fluctuations in search results and highlights possible Google updates by tracking 20+ categories.
Satish's session was informative, fun and interactive along with some quiz questions and real-time examples. Participants have taken part in the quizzes with full enthusiasm and have earned some exciting goodies from team SEMrush.
This session took a little longer than planned as Satish tried to answer all the participants' queries while covering each tool in detail. The Advertising Toolkit was planned just after SEO. However, later it was decided to shift it after Enoch's session on Content Toolkit.
SEMrush Content Toolkit by Enoch Pakanati
Enoch Pakanati had given a brief understanding of SEMrush Content Toolkit covering Content Audit, Topic Research, SEO Content Template, SEO Writing Assistance, Content Monitoring, and Optimization. He had discussed why Content Audit is so important and explained how this tool can help users understand the content gap.
Enoch had given a brief overview of SEMrush SEO Writing Assistance, another great addition to the content toolkit. It recommends the target keywords and gives suggestions for the page title and meta description. It can be integrated with your WordPress account or Google docs as well.
SEMrush Advertising Toolkit by Satish Kumar
After the Content session, Satish had taken over again to give an in-depth idea about the Advertising toolkit. He had explained each tool including Domain Overview, Advertising Research, Keyword Magic Tool, PPC Keyword Tool, Display Advertising, Search Campaigns, GDN Campaigns, Shopping Campaigns, quick wins, and workflows.
Satish had given a detailed idea of Domain Overview that gives a synopsis of all the text and display ads that the company is running along with other important metrics. He had also explained the CPC Map and Ad Builder that are designed to help a marketer with their paid advertising efforts.
SEMrush Social Media Toolkit by Yulia Aslamova
The last session was on Social Media toolkit and Yulia Aslamova had given a detailed understanding of how to make the best use of this tool. SEMrush Social Media Toolkit is a one-stop platform for the users to plan, post, track and analyze all the social media activities from a single tab.
She had discussed how one can create a social calendar in advance, schedule and post to multiple platforms and analyze performance to increase the effectiveness of their social media marketing efforts.
Final Words
SEMrush Hyderabad meet-up was a power-packed event with some great learnings from the experts. Hyderabad will eagerly wait for the next event from team SEMrush.
Also, if you're interested to learn the advanced strategies of SEO and Social Media, then make sure that you register to our Enterprise SEO Workshop now to guarantee your participation.
What Our Attendees Think About The Event
I have gained a lot of value and insights – Avinash Choudhary
"Very useful information delivered in an excellent manner. I have gained a lot of value and insights form the concepts and tools taught during the workshop. I am really thankful for having the opportunity to attend." – Avinash Choudhary, Senior Marketing Manager
I am going to implement the concepts. – Ramya Suresh
"Satish did a great job providing actionable concepts and encouraged us for instant application. I know how I am going to implement the concepts as I already did it during the workshop!" – Ramya Suresh, Digital Marketing Consultant
Very Interactive – Karthik Reddy
"This SEO Workshop was very interactive. It gave our team the opportunity to learn the lesser known tools and techniques to better our digital marketing strategy and enhance our skills with applicable takeaways." – Karthik Reddy, Senior SEO Specialist