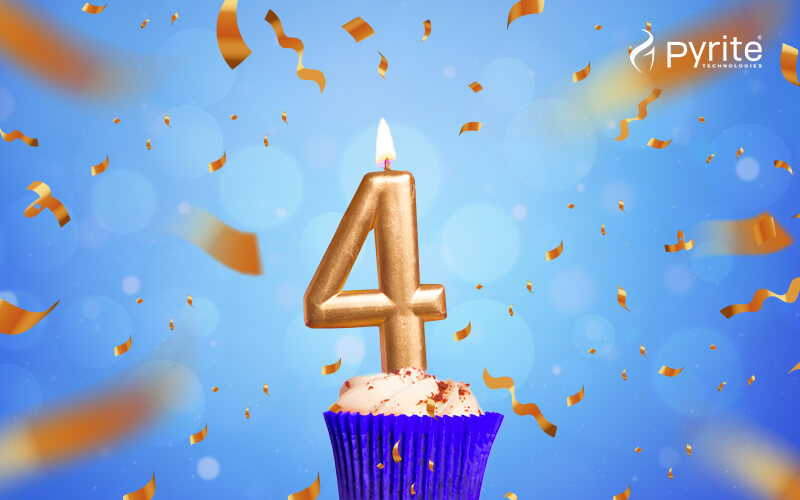 As we turn 4 today, Pyrite Technologies would like to take the opportunity to thank each and every client, partner and collaborator for having faith in us, you've been instrumental in getting us to where we are today. These four years have been a rollercoaster of a ride, and we've learnt a lot. The year ahead is packed with exciting developments for the company as a whole, and today, we're going to share a little bit more about what's coming, and what's gone by.

6 years ago, we began working on a technology blog that would one day become Pyrite Technologies. As the website grew popular, we expanded into a network of websites, which then transitioned into a services company, beginning with SEO and web design. In the span of two years, we were fortunate enough to go from participating in college fests to organizing them across the state. Along the way, we were honored and humbled to be chosen as part of promising startups in India by Tata First Dot and the Global Student Entrepreneurship Awards, moments which brought immense learning and perspective which only fueled our passion further.
As we registered as a private limited company in 2012, the future looked bright, but definitely daunting. It was a step we had meant to take, a step that would define our lives for the time ahead. Our very first clients and partners played an immense role in kickstarting our efforts, and their support helped us expand and scale new heights in a matter of months. The time ahead is even more exciting, as Pyrite Technologies moves into new industries, new markets and most of all, into sharing what we've learnt in the admittedly short, yet enriching time.
First off, we're extremely excited to announce our expansion beyond Indian shores, into the United States of America. Over the next few years we will be setting up a new branch there, which will cater to the evolving and specific needs of the vast international market. Secondly, we're also expanding into offline media, print and video marketing to complement our online efforts. The goal is to truly become a complete branding and marketing solution, both off the web and on it. Finally, Pyrite Technologies will also actively research and learn about the constantly changing world of Digital Marketing to stay ahead of the latest trends with Pyrite Labs, our new R&D division.
We truly believe that the best results can come from collaborating and sharing knowledge, and will be running free webinars and online trainings in addition to our corporate trainings and consulting efforts across the board of services. We're looking forward to sharing what we've learnt and also connect with like-minded individuals from all industries.
All in all, it's been an incredibly great time for all of us here at Pyrite Technologies, and we're confident that the time ahead will be even better! Once again, thank you for believing in us, it truly means a lot. Here's to another great year!